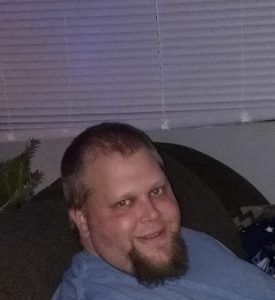 June 5, 1982 – February 1, 2023
It is with deep sadness that we announce the sudden passing of Christopher Edward McCrea.  Christopher moved to Lac la Hache when he was 9 years old and graduated from Peter Skene Ogden secondary school.  He worked in Kelowna installing industrial kitchens before moving to Kamloops to attend Tru. Christopher then took a job in camp at fort Mac before moving back to 100 Mile House.  Christopher had two sons Aeon and Zaidin and he enjoyed making special birthday cakes for them as nothing was too difficult when it came to giving them special birthdays.  He also enjoyed teaching his boys how to get a hummingbird to land on their fingers.  He took great pride in any of his projects and loved working with his hands. Christopher is survived by his sons Aeon and Zaidin his mother and father Jeanette and Larry, sisters Stephanie (Derek), Kimberly (Josh), Laurilee  (Jim), brother Steven, aunty Irene, his neices and nephews Ardryn, Hayden, Parker, Corb, Dallas, Ashley and Tony.
Until we meet again love you.
Condolences may be sent to the family from
www.kamloopsfuneralhome.com
250-554-2577