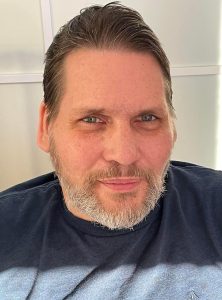 On Friday, November 26, 2021, we said goodbye to Glen Crawford, a beloved Father, Son, Brother, and Friend.
Glen was born on June 30, 1966 in Williams Lake, BC.  Glen lived in many communities in BC, including 100 Mile House, Castlegar, Fernie, and Vernon, but spent most of his life in Kamloops, BC, where he attended Westsyde Secondary School.
Glen had an adventurous spirit which led him to spend time in Mexico and travelling in Central and South America.  As a child and youth, Glen dreamed of being an astronaut and he followed the development of private space travel closely.  Glen married Keiry Millan-Pacheco on April 7, 2005, in Puerto Vallarta, Mexico, and the three children of that union were the light of his life.  Despite separating in 2015, Glen and Keiry remained close friends until his final moments.
Glen was an avid reader and kept his books close, even when he wasn't reading then.  He loved to hunt, fish and waterski in his younger years, until his physical health issues got in the way.
Glen was a true and loyal friend and supported those around him as best he could.   He valued honesty, loved his family and was always up for a heated debate.  Glen spent his last day with his loved ones and passed peacefully with his family around him, sending him off with love.  Glen is survived by his three children Alex (15), Taylor (11) and Mackenzie (9), his parents Doug and Monica, his siblings Jenifer and Ken (Lisa), his niece Allison and nephew Eric, his former spouse Keiry (Keith and his son Mason), his "Swedish sister" Marie, and many other relatives and friends.
In lieu of flowers, please consider writing a memory of Glen for his children who are creating a memorial book and/or make a donation to the children's education fund.  Please contact Glen's sister Jenifer (jen@crawfordlaw.ca) for more information.  Thank you to the medical and administration staff of the Medical Assistance in Dying program for supporting Glen in his wish to die with dignity and leave this world on his own terms.
There will be a graveside service at 11am Friday, December 3, 2021 at Hillside Cemetery and a Celebration of Glen's Life at 4pm Friday December 3, 2021 in the Kamloops Funeral Home at 285 Fortune Drive.
Condolences may be sent to the family from
www.kamloopsfuneralhome.com
250-554-2577