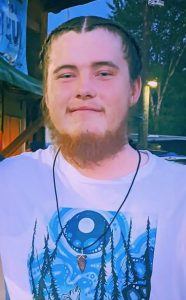 Damian Carter Dyson, a dedicated and compassionate young man, was called home to the Creator, on September 19, 2023, leaving behind cherished memories and a profound impact on those fortunate enough to have known him. Born on February 12, 2002, Damian's short yet meaningful life was marked by unwavering commitment to his loved ones and an enduring spirit of positivity.
Damian possessed a strong work ethic that was evident to all who crossed his path. He was always ready to extend a helping hand to anyone in need, a testament to his selflessness and the depth of his kindness. His infectious optimism and love for life shone through in every endeavor he undertook.
He is survived by his loving father, Eric Jones, and stepmother, Kaely Corrigan, who guided him through life's challenges. Damian's memory will forever live on in the hearts of his siblings: Natalia Jones, Corey Jones, Shanna MacDougall, and Bethany Bradbury. He leaves a lasting legacy that will be treasured by his grandparents, Gary and Irish Jones, his aunt Mary Dyson, uncle Joshua Dyson, grandmother Sandra Dennis, and aunt & uncle Daniel and Carrie Jones.
While we mourn his passing, we must also remember his mother Naomi Dyson, and uncle John Dyson, who preceded him in death.
A Funeral Service to celebrate Damian's life will be held on Sunday, October 1, 2023, at 11:00 am in the Kamloops Funeral Home at 285 Fortune Drive.
The family extends their heartfelt gratitude to friends and family for their unwavering support during this difficult time.
For those who wish to convey their condolences or share memories, please visit www.kamloopsfuneralhome.com. Damian's memory will live on in the hearts of all those who were fortunate to have known him.