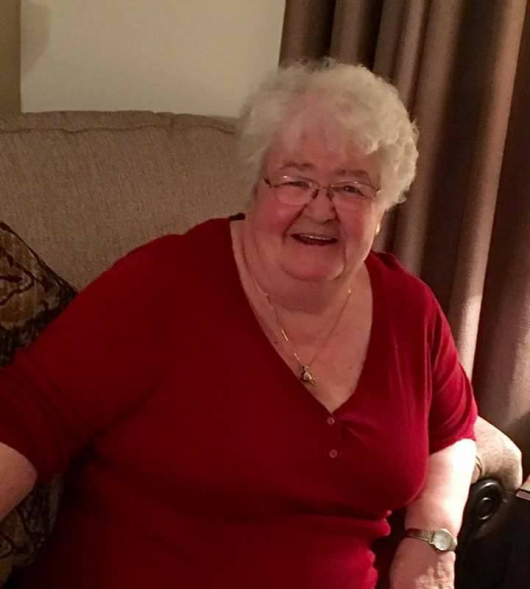 With heavy hearts, Jessie's family announces the sudden passing of their wife, mother, Nana and great Nana at her home in Logan Lake.
Mom was born in Scotland on July 29, 1939 to William and Isabella Myles.  Mom met the love of her life, Dan Bell, at a dance in Bo'ness and they were married October 3, 1959.  Dad was a coal miner but knew he wanted a better life for his family and together they made the hard decision to immigrate to Canada. Dad came over August 1965, Friday 13th, and the rest of us came in February 1966 to Wabash in Labrador where we lived for 7 years. In February 1972, we moved to Logan Lake.
Mom was an active member in her community with the Kinnettes, Brownies and Ranch & Country Club. Most recently she was the secretary for the Logan Lake Seniors Society.  Mom loved curling, but most importantly knitting.  Man could she knit. We all have a piece of mom's knitting that will be treasured.  Sorry Dad, it looks like you won't get your cardigan.
Mom loved her friends with all her heart, but her greatest joy was her family. She was fiercely protective of them and we are so glad that her grandchildren and great grandchild have so many living memories of Nana to cherish.
Jessie leaves behind her loving family: Dan, her husband of 59 years; Janet (Paul) and granddaughters Caitlin and Danielle; Diane (Chuck) and grandson Bryce (Amanda) and great granddaughter Hallie and granddaughter Marryah (Stuart); Danny (Colette) and grandson Daniel.
We love you mom with all our hearts. They are broken but will heal in time.
Until we meet again.
In lieu of flowers please support your favorite charity or mom's favorite, the BC Children's Hospital Foundation, 938 West 28th Avenue, Vancouver, BC V5Z 4H4