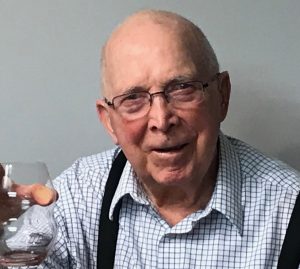 Born in Portage La Prairie, Manitoba, grew up a on a farm near Katrim, Manitoba. Bert worked for a variety of jobs, including CNR, which led him to Kamloops, BC, where he met Irene. They got married, started a family and he worked for the City of Kamloops until his retirement in 1993. Bert was a dedicated volunteer with Scouts Canada for more than 40 years. He was known to fellow Scouters as "Bolts". Bert was an active participant in Chartwell Kamloops Retirement Residence and he loved to dance. Bert is survived by his children – Ron (Brenda) Edgeworth, Gordon (Debra) Edgeworth, Brian (Niki) Edgeworth, Mike (Roberta) Edgeworth, Darrell (Cheryl) Edgeworth, many grandchildren – Megan, Jenny, Kristin, David, Jami, Kara, Kymbrlee, Dan, Adam, Carson & Bryce, and great grandchildren , sisters Helen Klatt, Olive Proctor and Hazel Gunn.  He is predeceased by his wife Irene Edgeworth, 2nd wife Terry Edgeworth, brothers – Orville, Bob, Ken and sister Margaret.
Special thank you to all Chartwell Kamloops staff for their continued care and support. A special thank you to RIH staff in the ER and 4 North for their excellent care and compassion.
Bert is loved and will be missed by family.
Celebration of Life will be held on Tuesday, October 12th at 11am in the Kamloops Funeral Home Chapel. Interment to follow at Hillside Cemetery.
In memory of Bert, donations can be made to the Heart and Stroke Foundation 729 Victoria St, Kamloops, BC V2C 2B5.
Condolences may be sent to the family from