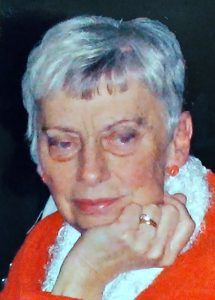 Bonnie wondered, as she stood in her rubber boots in the pig pen, how she ended up on a ranch.
The daughter of a father who was B.C. Police and then with the Game Dept., meant that she, her brother Dennis, and sister Sandy never stayed in any place for long. Yet this RIH nursing grad was now rooted: walking through manure, taking it all in, and loving her new life at Pinantan Lake. Her marriage to the lanky Garfield Hines would result in three boys (Brian, Dan and Darren) and an eventual move away from the ranch into Kamloops.
Her vocation and her nature were one. As a compassionate community nurse for many years, she was also a skilled mentor for younger nurses. Witty and warm, yet with a bright sadness and a persistent struggle with her hidden regrets, she dedicated her life to serving others. This continued into the years beyond her working life, as she volunteered at hospice and in pastoral care for her church.
Her favorite place was their simple cabin at Neskonlith Lake and enjoying time with her three grandchildren: Skye, Ali and Sarah. Bonnie's faith was in the Spirit who guided her and her devotion was in studying the Bible for sustenance and grace. It gave her the quiet reassurance to gently release herself in the early morning hours into hands of mercy. As her body began to break down, she was ready for this freedom.
We will gather to celebrate her life at 1:00 pm on Saturday, November 26, 2022 at the Centennial Chapel Free Methodist Church at 975 Windbreak Street in Kamloops, BC. A tea will follow the service.
Condolences may be sent to the family from
www.kamloopsfuneralhome.com
250-554-2577