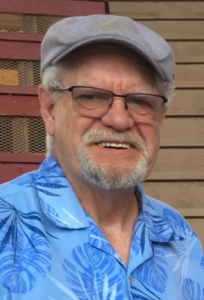 Bradley Joseph Lachmuth of Kamloops, BC, passed away suddenly on October 4, 2021 at the age of 69. The family is deeply saddened by his passing and he will be immensely treasured. Brad was born on March 19, 1952, to Al and Iris Lachmuth in Humboldt, Saskatchewan. Anyone who knew Brad was touched by his kindness, humor, and mild temperament. He was truly a caring man and was always a source of positivity. Brad operated his own car restoration business for many years prior to 26 years of foster parenting. Brad was passionate about antique cars and enjoyed the camaraderie of the Roadmen Car Club members.
Brad is survived by his loving wife Lee Lachmuth, daughters Karen (Tracy) Moore and Betty (Charles) Lapeyre, son Bobby (Tyrell) McLellan, grandchildren Jaxon, Colton, Dillion, Sandra, Brandon, and Nathan, and great grandson Andy, and many foster children and foster grandchildren. Also, his brother Grant Lachmuth and wife Beth of Summerland, BC, niece Rachel Lachmuth, nephew Erik (Tennile) Lachmuth, and their children Danielle, Eryn, and Pearson. Brad was blessed with many cousins, and aunts and uncles who he shared many family memories with.
Forever loved, forever missed, and forever in our hearts!
There will be a Celebration of Life held in his honour on Friday October 22, 2021 at 11am.
This will take place at Kamloops Funeral Home, 285 Fortune Drive, Kamloops, BC. (Proof of vaccination will be required for attendance inside the building)
Contributions in lieu of flowers can be made to Kamloops Wildlife Park.
Condolences may be sent to the family from