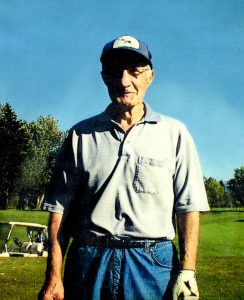 It is with deep sorrow that we announce the passing of our loving Father and beloved Grandfather, Carl Stefanik of Kamloops on June 26, 2022 the age of 88 years.
Carl will always be lovingly remembered by his family; daughters Susan Gobbee (Jerry), and Marianne Stefanik of Kamloops, grandchildren Joseph (Cass) Gobbee, Jason (Chantelle) Gobbee, Justin (Tara) Gobbee and Jaime Laplante of the Kamloops area;  great grandchildren Maya, Jacob, Taylynn, Gavin, Keaton, Kiara and Harper Gobbee; brothers John of Vernon and Bob of Terrace, sisters Agnes Kern of Brampton, ON, Ann Halicki of Vancouver and Irene Willman of Langley; brother and sister in-laws, nieces, nephews, other relatives and friends. Carl was predeceased by his loving wife Patricia of nearly 58 years, their son David Stefanik and Carl's brothers Steve and Nick Stefanik.
Carl was one of eight children born to Nick Stefanik who immigrated from Czechoslovakia in approximately 1928 with his wife Agnes Stefanik and their eldest son Steve in approximately in 1930.
Carl was born on March 19, 1934 in Gainford, AB, growing up on a farm. He did many farm jobs as well those of faller, skidding logs with horses, and later meeting his future wife Patricia, while driving taxi with Patricia having been the dispatcher.
Carl worked at Valley Concrete in Mission Flats for approximately 20 years. He went onto work for CNR from 1981 – 1990 when he officially retired but kept busy doing odd jobs, as keeping busy was a must for Carl.
He loved active sports, playing on softball, hockey and bowling leagues. Carl also enjoyed tennis, pool and his weekly poker games with his friends, but Carl's main love was for the game of golf.
Carl's other interests were in his vegetable garden (which he offered to family and friends) and self-taught wood working projects. He built many projects over the years for his family and friends.  Carl taught a lot to his children and grandchildren about doing the job right. There wasn't anything he could not build.
Many thanks to Trinity Hospice for their warm support through the last days.
DAD taught his children and grandkids many valuable lessons throughout the years, about the value of family and working hard. "Same here."
We want to thank Dad for making sure we tried our best and that he was a strong pillar in our family.
A Funeral Service in care of The Kamloops Funeral Home.
Service to be held Thursday, August 18, 2022 at 12:30pm.
Condolences may be sent to the family from
www.kamloopsfuneralhome.com
250-554-2577