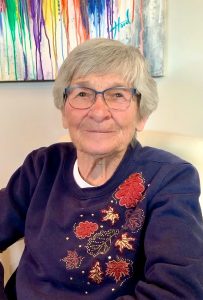 Elizabeth Karpluk died at age 88 on Saturday, July 30, 2022, at Royal Inland Hospital in Kamloops, with family by her side.
She was predeceased by husband Alex Karpluk. She will be missed by her children: Lindsey Karpluk (Janice), John Karpluk (Marie-Ellen), Paula Swint (Terry) and Teresa Wallace (Kevin), son in-law Reg Swint, grandchildren Nicolas (Aya), Brynden (Alexa), Jessica (Jeremy), Steen, Cara, Matthew (Christina), Alix and Nicole, great grandchildren Molly, Johannes and Hudson, with three more on the way. She is survived by her sister Phyllis Newman (Wilbert) and sister-in-law Liz Kryzanowski. She was also predeceased by parents Phillip and Mary Krezanowski, brother John Kryzanowski (Liz), sister Angela (John) and many Lower Mainland and Alberta relatives. Many special family pets included dogs Roosevelt, Macy, Winston and Marty and the hop farm cats.
Elizabeth — known as "Baba" — was born in 1933 on the family farm in Chipman, Alberta to Mary and Phillip Krezanowski. The first of four children, she had many responsibilities on the farm. At age 16, she left home to complete high school. She talked about riding to school on a cart pulled by a Shetland pony. When she finished school, Liz moved to Edmonton and worked as a seamstress at the Army and Navy, sewing GW jeans before she took a job in advertising at Woodward's, where she painted signs, set up windows and decorated floats for Klondike Days.
At night, she was a coat-check girl at a popular dance club, where she met Al. Liz and Al were married in Edmonton and moved to Kamloops, where they raised four children.
Al was a CNR engineer and, during a long strike, Liz used her seamstress skills to help family cashflow by sewing bridal dresses. Unbelievably, they were priced $30 for 30 or more hours of work by hand. Liz became famous as the neighbourhood's top baker. She made endless cookies, cakes, pies, donuts and loaves of bread. Her children remember coming home from school to freshly baked goodies, which were shared with friends and others in the neighbourhood. Liz also often had a big pot of borscht on the stove and made the world's best perogies and cabbage rolls, harkening back to her Ukrainian heritage. Liz was so famous for her cooking that she had a regular segment on Lois Cutler's television show, which aired in the afternoons on CFJC TV. Liz's home garden was abundant with vegetables, fruit and flowers. Most family summers were spent canning and freezing to prepare for winter, with nothing going to waste.
Liz drove Al to work at all hours so she could have access to the car and drive the children around to various activities. In between, she volunteered for minor hockey, Brownies (as Snowy Owl), sewed uniform numbers and dance outfits, coached softball, taught sewing for parks and rec and delivered Meals on Wheels. She styled her children's hair when they were gymnasts and divers, processing Toni perms to keep up with hair fashion of the time.
As a long-standing member of Kamloops Curling Club, Liz also became a curler of note. She curled in any league she was permitted, including: the CNRA, Kami Business Girls, the Nisei
League and a variety of seniors leagues. She helped initiate floor curling in Kamloops, which still exists today for seniors at the Heritage House downtown. Her greatest curling accolades included: two eight-enders (one in ice curling and one in floor curling), winning the B.C. Senior Women's Curling Championship, being named all-star lead at the Canadian Seniors Curling Championship (which she attended three times) and her induction into the Kamloops Sports Hall of Fame in 2020 for competitive consistency on the Eve Skakun Rink. She made more than 20 trips to the senior games.
When the children grew up, Liz went back to work as a floral designer. She worked for Sahali Flowers and Newell Flower Shop and eventually bought and operated her own store, Flowers by Valleyview, where she cut flowers alongside her daughter, Paula. Liz enjoyed doing deliveries, so she could go out and visit everyone who received beautiful bouquets.
Al died too young, which was difficult on Liz. Soon, however, eight grandchildren came along and a traveling companion in Wilf Schneider. Baba was an amazing grandmother, always delivering birthday gifts, cheering on the sidelines for every sport and giving the best back scratches and hugs. She fostered three generations of Kamloops residents. Liz and Wilf loved to take cruises to exotic locations and bus trips to Reno and Leavenworth to see the Christmas lights.
Liz also loved camping, fishing, golf and watching the Edmonton Oilers and Edmonton Eskimos.
Liz was a devoted Catholic and founding member of Holy Family Parish in Valleyview. She was a charter member for decades in the Catholic Women's League. She worked tirelessly for any event or mission the church commissioned until her first stroke, advocated for pro-life and supported St. Ann's Academy. She made more than 100 blood donations. Her charity work went beyond what can be measured.
Standing less than five feet tall and weighing less than 100 pounds, Liz was small in stature but had the biggest heart. She loved her family until her heart stopped beating at RIH. Her family will miss her big smile and blue eyes and will forever strive to emulate her selflessness, though her shoes seem impossible to fill. The family would like to thank Dr. Baker of Calgary and Dr. Kelly of RIH 6 North, along with numerous nurses and care aides, who allowed her to die with dignity and comfort. Liz's personal care aide, Bonnie Tindall, was a huge support and dear friend to the family, guiding them on Liz's journey.
Prayers will be recited, Sunday, August 7th at 5:30pm in and Mass will be held Monday, August 8th at 10am, in he Holy Family Parish – 2797 Sunset Drive, Kamloops, BC V2C 4K7.
Condolences may be sent to the family from
www.kamloopsfuneralhome.com
250-554-2577