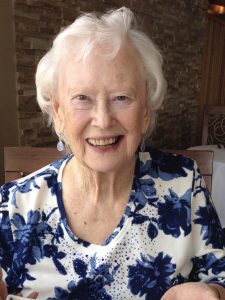 Joyce McKinley, age 92, peacefully passed away on August 15, 2022 in Kamloops, BC. She was born on May 7, 1930 in Montreal, Quebec to her parents, Bill and Dorothy Kilgour. She and her sister (Sandy) spent their early childhood years in Montreal before the family moved to Toronto for a short period of time. After returning to Montreal, they resided next door to an Associated Gospel Church. While attending this church, Joyce accepted Jesus Christ as her Saviour. In the late 1940's, the family moved to Winnipeg and Joyce began working at the T. Eaton Company. It was there she met a handsome young man, John McKinley. After two years of dating, they were married on July 7, 1951. Joyce was a stay-at-home mom raising their two children, David and Brenda, in Winnipeg. Later she worked with V.O.N. and then in electrical/hardware stores. After making Winnipeg home for over 60 years, Joyce and John moved to Kamloops in July 2010.
Joyce loved people and nature. Her curious and engaging spirit sparked her interest in many household pets, outdoor birds, flowers, gardening and activities like biking and picking berries with John and friends. Another one of her favourite past-times included traveling throughout Canada, United States (including Alaska) and the Philippines. She enjoyed hosting people in the home where they could enjoy excellent cooking and baking, playing table games, and lively conversation with laughter. For many years, Joyce actively participated in a ladies' missions group and chaired the Christian Women's Club in Winnipeg.  More recently, she enjoyed attending Summit Drive Church and then the Friday church services led by Pastor Harry Bicknell at the Chartwell Ridgepointe Residence.
Joyce is survived by her husband, John; her two children, David (Laura) and Brenda (Grant); five grandchildren—Karen (Mel) and Nancy McKinley; Caleb (Jess) Joshua (Chelsea), and Bethany Del Begio and four great-grandchildren (Eliya and Benjamin, Noelle and Hailey). Joyce is also survived by her sister, Sandy Spaulding, and many nieces and nephews. Her love for people and radiant smile is and will be sorely missed. We do know that our Mom, Grandma and Great-grandma is now with Jesus and we look forward to the day when we will see her in heaven with her Saviour.
Condolences may be sent to the family from
www.kamloopsfuneralhome.com
250-554-2577