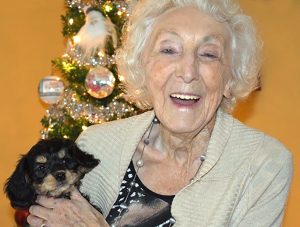 With broken hearts we announce that Elizabeth (Betty) Palmer passed away in Kamloops, BC.  She was predeceased by her two husbands David Laidler and Donald Palmer, daughter Grace Wolkosky, her only sibling Bill Moffat and her grandson Jessee Palmer.  All of them will be awaiting her arrival with their dancing shoes on.
Mom was born in North Vancouver November 17, 1925 to parents William and Grace Moffat (nee Wilson).  She and her younger brother Bill grew up among the natural beauty of Lynn Valley.  She loved to share her memories of riding her horse through the river valley.  Following the death of her mother in 1948 she moved to Victoria where she met and married David.  Together they would have 5 children until his passing in 1963.  Mother was blessed in meeting Don a few years later, who not only fell in love with her and became a loving stepdad to her 5 children following their marriage in 1966.  From this union her last child Kenneth was born.  Following Don's retirement from the navy in 1972 they moved to Edmonton where Don started a new job with the Federal Government.  They made many lifetime friends while living there.  In 1987 they returned to Vancouver Island to live out their retirement years in a large house in Sooke where they hosted many joyous gatherings of family and friends.   Following Don's death in 1999 Betty moved back to familiar grounds in Esquimalt and lived there until the passing of Grace in 2007.   Later that year she relocated to Kamloops to be closer to her surviving daughter Carmen.
Betty was gregarious and embraced the social opportunities of her new surroundings.  She loved to dance, starting as a little girl with the Vancouver Ballet Company and we have great childhood memories of her dancing in the kitchen.   Four months after recovering from broken hip surgery in 2017 she danced the night away at her grandson's wedding.  She joined the ladies Red Hats social group and loved participating in their many fun events.  Moving to Berwick On The Park retirement home in 2017 opened up more social activities for her and she maintained a robust schedule throughout her 90's.
She leaves behind her 5 living children, Robert (Sharman), Donald (Cathy), John (Shelly), Carmen (James), Kenneth (Tina), 13 grandchildren and 12 great grandchildren, sister-in-law Yvonne Moffat in Halifax and her children William, Robert and Anne-Marie.    Also left to mourn is her "second family," the Watling sisters in Victoria who loved Betty like an aunt.  She was blessed in her later years with many friends and loved ones, providing her a wonderful quality of life as she aged.  To all her friends at Park Place in Kamloops where she lived for several years, we will continue to swing by and watch her tree grow.  Kudos to the wonderful staff at Berwick on the Park.  Mom enjoyed her years there.  Thanks also to Dr Thomasse and Daphne for administering to mom's medical needs over many years.   A celebration of Betty's life to be announced at a later date.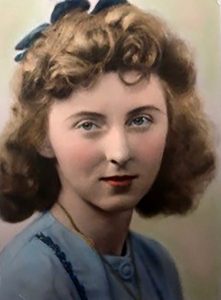 Condolences may be sent to the family from
www.kamloopsfuneralhome.com
250-554-2577