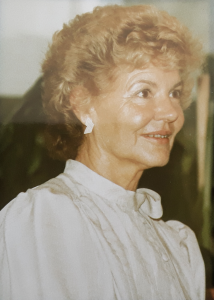 Marie Messmer, 96 years old, passed away in her family home on July 19, 2022. She was born in Ashcroft BC on April 18, 1926 to parents David "Sonny" and Alice McConnell. She is preceded in death by her husband Earl Messmer and daughter in-law Corinne Messmer. Marie is survived by her children and their spouses, Mitchell Messmer and Patty Thomson, Dean and Nikki Messmer, Arlen Messmer and Lorraine Lepine, Andrea and Jeff Delwo, and Linda Messmer; grandchildren Ayren, Amber, Nicolas, Sidney and Branden Messmer.
Marie was an avid gardener, maintaining a beautiful yard and veggie garden while raising her children and working full time for various garden shops in Kamloops.
A special thanks to Sandra Fuoco for the last 10 years, allowing Mom to be able to stay in her family home.
A Celebration of her Life will be held at a later date.