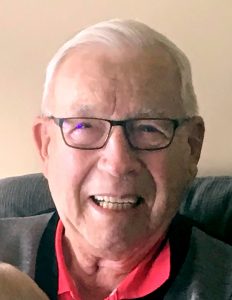 Joseph William Harry Silver passed away peacefully on June 12, 2022, at the age of 85 in Kamloops, BC after a brief illness.
Joe was born in Fort William, Ontario, where he met the love of his life, Lorna, and they married in 1957. They had five children, Joe Jr. (late Karen), Terri (Dan), Tracy (Al), Renee (Ian) and Debbie (late Larry).  They were blessed with 13 grandchildren, Alayne, Kristi, Nicole, Andy, Talaine, Blay, Tyler, Meagan, Kasha, Micah, Trent, Tejadah and Tasia, and 13 great-grandchildren, Ayden, Gavin, Gabby, Daniel, Acacia, Bryden, Payton, Cassie, MacKenzie, Callen, Annabelle, Jacob and Evelyn. Joe is also survived by two brothers, Jim (Cheryl)
and Mike (Susan), and brother-in-law Doug (late Sandy), and
pre-deceased by siblings Diana (late John) and Richard (Maryanne).
Joe worked for many years as a pipefitter in Thunder Bay,
Prince George, Kamloops, Fort McMurray and Houston, then
retired to Kamloops at age 60.
Joe loved to play golf and was a member of The Dunes Golf Club for
many years. He also enjoyed cross-country skiing, black powder
shooting, hunting, fishing, snowmobiling, cards and board games.
He and Lorna were Juniper Sam RV Club members for several years.
All Joe ever really wanted in life was to have a family. He was a
wonderful provider who cherished his whole family who surrounded
him in his final days.
Joe will be honoured by his family in a quiet celebration of life,
with arrangements being made through Kamloops Funeral Home.
An online stream will be available through the family – please send
an email to: reneeclements@telus.net
In lieu of flowers, donations to Big Brothers Kamloops or the
Red Cross are welcome.
Condolences may be sent to the family from
www.kamloopsfuneralhome.com
250-554-2577