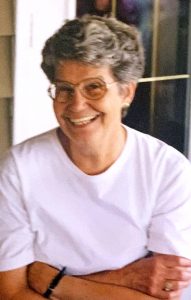 It is with heavy hearts that the family of Betty Ann Heron announce her passing on Saturday June 11, 2022 at the age of 88.
Betty is survived by:  her sister Irene, 3 children Sandy, Doug (Sandy) and Arlana (Jaime), grandchildren Danny (Tamara) Nicole, Amanda (Carlo) and Christa (Dave). She was great-grandma: to Danny's children Ryan, Emily and Zach, Nicole's children Tyler and Bentley. To Christa's children Paisleigh, Teaghan and Oaklan – she was GG.
She is predeceased by: parents Pearl and Les Gardiner, brother Bill and sister Frances, husband Don,
son-in-law Barry and great granddaughter Luciella.
Betty Ann was born at Royal Inland hospital Aug 17, 1933 to Les and Pearl Gardiner. She grew up on the family farm with brother Bill and sisters Frances and Irene. She later moved to town and boarded with George and Dorothy Bowers in order to complete her education. She attended the old Kamloops High School and was a part of the last graduating class of 1952.
After graduating she started her career with the BC forest service. Soon after she met our father Don (Donald Raymond Heron) of Cherry Creek. They were married June 27th, 1953. Sandy was born in 1958, Doug soon followed and lastly Arlana. It is during these years that Mom stayed home to raise us.
As we got older mom returned to work, starting at Sears. This is where she met Raffelina Johnson who has remained a trusted and true friend. Mom enjoyed her time at Sears, working with the public and became a department manager. After leaving Sears she started to work at BC Tel. It was here she met many special friends: Erna, Pearl, Peggy, Guido and John (to name a few). She then retired from Telus as it is now called in 1994.
Living in the same neighborhood for over 60 years, her passion for gardening was evident in her beautiful garden and flower beds. The neighborhood has changed over 60 years but still present and always keeping a watchful eye were the Russell's and the Pape's.
Moms last years were spent gardening, baking, driving the cancer bus to Kelowna and volunteering at People in Motion (doing Income tax). She had many luncheon groups: Sears, Telus and the old neighborhood group. There was always shopping. The grandchildren and great grandchildren always brought her happiness and she spent as much time as she could with them.
A graveside service to which all are welcome will be held Friday
June 24th at 11:00 in the Hillside Cemetery. A tea to follow at
Kamloops Funeral Home.
Condolences may be sent to the family from
www.kamloopsfuneralhome.com
250-554-2577