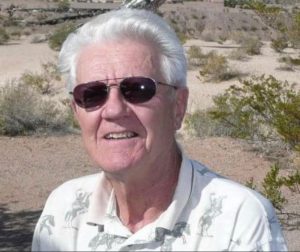 It is with broken hearts that we announce the passing of Norbert Alois Schwarzer, who passed away peacefully at home with his wife by his side on December 28th 2021 at the age of 82. He is survived by his loving wife Monica, his brothers Karl and Klaus, his sister Marianne, his sons Robert and Martin, and his step-daughters Susan, Sandra and Lynne. He also leaves behind numerous nieces, nephews, and grandchildren, in both Canada and Germany.
Norbert was born in Buschdorf, Germany on February 4th 1939. He immigrated to Canada at the young age of 18 yrs. A naturally curious and brilliant man, he spent the next several decades exploring Canada, perfecting his welding trade, raising his family, building a beautiful home in Logan Lake, and working at Highland Valley Copper mine. After retirement, his later years saw much travel and adventure with his wife Monica. As anybody who's seen their fridge magnet collection could tell you, Norbert and Monica saw a good portion of the world together, travelling to Australia, New Zealand, the Dominican Republic, Colombia, much of Europe and North America, and many other destinations.
Norbert was a charming and helpful soul. He could and would find something to talk about with anybody and made friends all over the world. He could often be found "MacGyvering"
a fix for just about anything, from vehicles to ovens to hot tubs etc., and though a Welder by trade, one could also consider him a mechanic, electrician, and carpenter, too. Norbert enjoyed exercise and being outside, and was a successful gardener. He had a thirst for knowledge and conversation, was fiercely independent, and loved his family with a grace and selflessness that will be sorely missed.
Norbert's family would like to thank Dr.Tynan at the Royal Inland Hospital Emergency Department for all his care he gave to Norbert. Also, a big thank you to Dr. Pwint at the R.I.H. Cancer Clinic. By request there will be no service. In lieu of flowers any donations can be made to the Cancer Clinic at R.I.H.
Condolences may be sent to the family from
www.kamloopsfuneralhome.com
250-554-2577