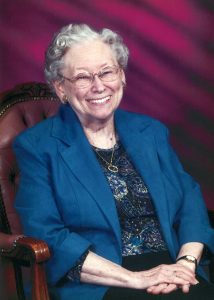 When I stand before God at the end of my life, I would hope that I would not have a single bit of talent left,
and could say, "I used everything you gave me."  (Erma Bombeck)
With heavy hearts our beloved mom went home to be with her Lord and Savior January 6, 2022, at the age of 88 years.  Mom leaves behind her children Bill (Dawn), Linda, Fred, Michael (Heather), and 11 grandchildren (Lana, Sheri, Brenda, Tanya, Amanda, Chelsey, William, Daniel, Jenny, Zachary, and Zane) and 19 great-grandchildren (Brayden and Dyllan, Presley and Jackson, Katelyn and 'Kenzie, Austin, Rachel, Nolan, Erick and Carter, Ryan and Jocelyn, Emily and Riley, Orion and Wyatt, McKenna and Ellie).
Also left to mourn mom's passing are her two sisters-in-laws Jenny Hewitt and Peggy Allen-Newman, and numerous nieces and nephews.
Mom was predeceased by her loving husband, Bill of 54 years, parents Fred & Winnifred Webb, brothers Donald Webb and Brian Webb, her grandson Tyler Johnson, brother-in-law and sister-in-law Les and Esme Batchelor, and brother-in-law Frank Hewitt.
Mom was born in Winnipeg, Manitoba October 24, 1933.  Her family moved to Nanaimo, BC a few years later and eventually settled in Shawnigan Lake.  Mom met the love of her life, Bill Batchelor, and married July 31, 1954.  Both mom and dad became Christians at a Layton Ford Crusade in Victoria in 1965.  The family doctor gave orders to dad to relocate to a drier climate due to mom's and Michael's increasing complications of asthma; the family eventually moved to Kamloops in 1966.
Kamloops became home very quickly, and they found their home church, First Baptist Church on Columbia Street.  Mom became involved in church activities that became a very important part of her life.  She made some very wonderful, lifetime friends.  She helped in Crusader Girls, Sunnybrae Bible Camp (helping in the kitchen with Del Groves, Frieda Swadling, Eleanor Knodel, and others), led DVBS in our home at Pinantan Lake (with the help of Kathy Meger), and Women with a Mission and Mission Circle which she contributed to with music, games, and a humorous joke.  Mom was gifted with a great memory of the church's history. Mom shared her given talents that allowed her to play the organ and piano for many years.
Mom brought with her a huge smile containing 2 large dimples.  Her short stature was lovingly used as a measuring gauge by her many grandchildren, and great-grandchildren, and others who loved her so; mom hugged them all.  Mom spent her time knitting, sewing, baking small cookies for all occasions, and countless barbie doll clothes and furniture; anything that delighted her grandkids and loved ones.
Though mom spent a lot of time sick, in and out of the hospital, she made use of her time knitting for new babies in the church, her love in every stitch.    It was only in the last few years that dementia took these joys from her, but her love for the Lord never waivered or her listening ear.
Mom was a blessing to all who knew her.  Our mom, auntie, nanie, grandma, was a gift to us all.  She has left us with an empty space, but it is filled with wonderful, fun-loving memories for us all.  Her prayers and presence will be greatly missed.  Mom is happy and healthy in the arms of her Heavenly Father.
A huge thank you to the caring staff at Kamloops Seniors Village who made our mom comfortable and loved on her too.  Also, thank you to Dr.Wynne for his care.
A graveside Celebration of Life will happen at a later date.
I shall pass through this world but once.
Any good that I can do or any kindness that I
can show to any human being, let me do it now.
Let me not defer or neglect it for
I shall not pass this way again.
(heirloom hand stitching done by mom)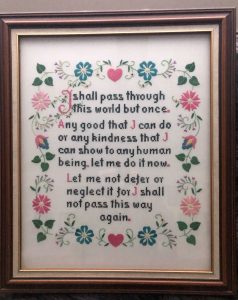 Condolences may be sent to the family from
www.kamloopsfuneralhome.com
250-554-2577