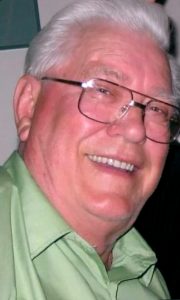 With broken hearts the family announces the passing of Pietro "Peter" Crucil. Peter passed away peacefully September 6, 2022, with his family by his side. A wonderful husband and father, he will be forever loved and sadly missed.
He will be remembered by his loving wife of 49 years, Ernestina and his daughters Mary (Alain) and Lori (David). He is also survived by his brother Sandro and many nieces and nephews both in Canada and Italy.
He is now reunited with his parents, Agostina Gosgnac and Andrea Crucil; as well as his brothers and sisters, Mario, Gina, Gildo, Tranquillo, Ginesia, Mafalda, and Armando.
Peter was born May 20, 1937 in the town of Mersino Alto, Italy. He was the seventh of nine children. Peter always had a dream to come to Canada and on his birthday in 1957 his wish came true, arriving by boat in Halifax. He then took a train across Canada to meet his sister Mafalda and her family in Clearwater, BC. Shortly after, Peter began to work for CN Rail. He also worked on the Mica Dam Project and with BC Hydro on the Arrow Lakes Dam project. In the early 60's, he began to work for Clearwater Timber Products loading rail cars and driving carrier trucks for the mill. Peter continued to work for various lumber mills in Clearwater and Vavenby, until he officially retired at 65.
In May 1972, he returned to Italy for a visit, where he met his future wife. They exchanged letters and phone calls until Ernestina came to Canada and they were married on December 2, 1972 in Kamloops, BC. Soon after they were blessed with two daughters, Mary and Lori. As a family, Peter, Ernestina and his girls loved to travel to the many hot springs all over BC in a Ford Econoline van that he converted himself. The family also traveled back to Italy as Peter was always wanting to show his two girls his family and heritage which was extremely important to him.
In the mid 90's, Peter and Ernestina built their dream home overlooking Kamloops. Throughout his life Peter was an avid gardener, carefully tending to his many vegetable gardens and fruit trees. He loved making wine in the cellar for his family and friends to enjoy. Peter cherished having his family and friends over and loved to make everyone laugh with his unforgettable smile and humorous stories.
We hope you will join us to remember Peter on Saturday, September 17, 2022 at OLPH Church, 635 Tranquille Rd, Kamloops, BC at 12:00pm
In lieu of flowers, donations in Peter's name can be to the Canadian Diabetes Association.
Condolences may be sent to the family from
www.kamloopsfuneralhome.com
250-554-2577