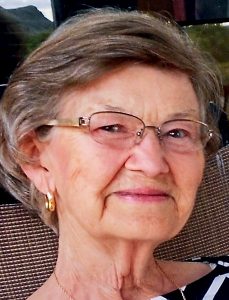 Born October 16, 1935 in Fredericton, NB, Lois died Monday, September 12th, 2022.  Survived by her sons Andrew Campbell of Montreal and Graham Campbell (Kristen) of Newark, OH, her daughter Sarah Campbell Besso, two special grandsons, Nicolas and Charles Besso, of Laguna Beach, CA; stepsons, Michael and Todd McAlary of Mississauga, ON, four McAlary grandchildren, Nicole, Taylor, Sean, and Mason, and three nieces, Karen Hine of Fredericton, Audrey Peake of Halifax and Iris Frazer of Sackville. Predeceased by her husband Eric B. McAlary, sister Marjorie Hine of Truro, NS and her first husband Donald G. Campbell of Montreal.
After graduating from Fredericton HS and attending UNB, Lois moved to Montreal and engaged in investment banking.  Lois pursued volunteer activities with the Montreal Oral School for the Deaf and the Junior League.  She returned to university, achieving a BA from Concordia and then a Masters in Counseling Psych from McGill.  Lois opened her counseling practice in Montreal and taught at Concordia.  In 1984, she married Eric McAlary and moved to her beloved Kamloops, BC. She resumed her counseling career and volunteered with the MS Society, the Kamloops Art Gallery, the Kamloops Human Science and Services Society and the CanGo Grannies.  She also started the Kamloops Osteoporosis Support Group.  Lois and Eric loved the outdoors and spent many hours searching for birds on Kamloops Naturalist Club field trips and around the continent and abroad.
In lieu of flowers, donations may be made to the Kamloops Naturalist club via CanadaHelps.org.
Condolences may be sent to the family from
www.kamloopsfuneralhome.com
250-554-2577