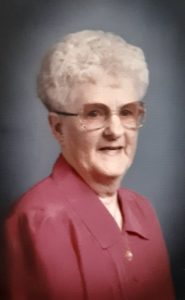 In loving memory of Bertha Marjorie (Armstrong) Collins who was born in Elstow Saskatchewan and grew up on the family farm in Carrot River, then attended Success Business College in Regina.  In 1948 she moved to Red Deer Alta and farmed with her husband until 1962 when they moved to Kamloops BC.  She moved to Richmond BC in 1964 and then back to Kamloops in 1974.
Over this time, she raised her family and managed her career.  She worked for the Co-op in Regina, Fry Cadbury's in Red Deer, the Sherriff's office in Kamloops, the Fire Chief's office in Richmond, retiring from the Court Registry in Kamloops in 1986. When not working her and her husband could be found on the road enjoying their caravan.
Bertha enjoyed her retirement, often travelling back to her large extended family in Saskatchewan and enjoying trips across Canada, to the Yukon and down to Nashville and points south.
She will be missed by her family and extended family from British Columbia to Manitoba and by her friends in Kamloops and at Cottonwood Manor.
A special thank you to the Caregivers, Nurses and Doctors at Ponderosa Lodge who provided wonderful care over her final months.
Condolences may be sent to the family from
www.kamloopsfuneralhome.com
250-554-2577