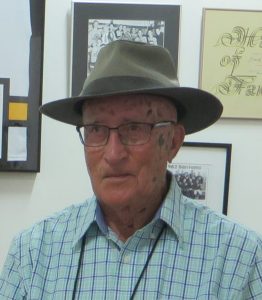 It was with heavy hearts that we say good bye to our father, Gramps, great grandfather, uncle, brother and dear friend, John Garfield Wells.
John was born on the family farm, (the fifth of 10 children) just a step or two from Wellwood, Manitoba to John (Jack) James Wells and Ada Hope Wells (nee Whitmore).
He was predeceased by his parents, his wife Audrey in 1984 (mother of Barrie and Alison), wife Joyce Fraser in 1996 and dear long time friend, Joyce Snider in 2021. His siblings who predeceased him include brothers Andy, Jim and Alex plus sisters Joan, Winona, Dawn and Beth. His surviving siblings include his brother Charlie (Chase BC) and sister Frances (Neepawa MB) and sister-in-law Marjorie Cartwright (Kamloops).
John is survived by his son Barrie (Bev) of Kamloops BC, daughter Alison of Kamloops BC, four grandchildren [(Tyler, Brett (Alex), Tammy and Amanda (Dan)] plus 2 great grandchildren, Shayne and Lucy. "Papa John" was also well loved by the Porter children and grandchildren: Ryan (Kristy), Hilary (Derek), Jaren, Jayse and Zephyrin.
Dad's gentle smile and gentlemanly nature will be dearly missed by many extended family members and close friends. His amazing record of 35 years of employment with CN Railways was only topped by the fact that as retiree, he collected a pension longer than he worked as a signal maintainer!
Dad was a long time member at the Kamloops Golf and Country club, plus the Kamloops Curling Club. Both sports kept him active and healthy well into his late 80's. Other favourite activities included bicycling, gardening and  walking his 'grand dog' Ava along Schubert Drive, admiring the scenery. Over the years he made several trips back to Manitoba to visit family and friends to share memories of his life on the farm outside of Wellwood.
Dad was a faithful member of  St. George's Anglican Church. His dedication and sixty two years of service to St. George's was greatly appreciated by the congregation and officiants.
A memorial service will be held on Friday, November 26, 2021 at 11 a.m., officiated by Rev John Boyd and Rev Linda Lagroix, at Kamloops Funeral Home, 285 Fortune Drive, Kamloops B.C.
Please respect Provincial COVID protocols, which will include proof of full vaccination and the use of facial masks.
In lieu of flowers, please consider a donation to the Marjorie Willoughby Snowden Hospice House. ( The "angels" that watch over our loved ones in their last hours are immeasurably the most compassionate, caring people that we have ever met).
"The universe gives us a reminder of how beautiful endings can be when the sun sets and the moon rises"  Taylor Ashley
Condolences may be sent to the family from
www.kamloopsfuneralhome.com
250-554-2577