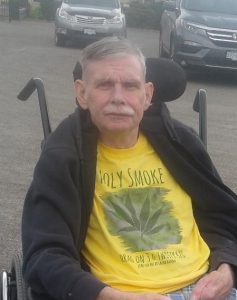 It is with great sadness that we announce the passing of Dale Noel Robertson who passed November 16, 2021.
Dale was born April 28, 1953 in Vancouver and grew up in White Rock, BC. He worked for White Rock Mufflers and had many good times in the clubhouse made in the old bus station. Dale had many friends in White Rock, that he thought of often. When diagnosed with MS he re-trained as a professional custodian (Janitor) and worked at Weatherby Pavilion at Peace Arch Hospital. He moved to North Kamloops in 2009 with his wife Carol.
Dale is survived by his wife Carol (46 years), niece Zoey Roberston (Chris), great nephews Nicholas & Waylen, nephew Ozzie Robertson, nieces Yolanda (Kelly) & Tanya (Kevin), great nieces Olivia, Ava, Abbygail  and Madeline, nephew Michael Yoshy, brother in law Bob Yoshy (Alanna), bestest friend Teresa Maclean, god children Dana, Jaclyn, Jake and great god daughter Lily.
Predeceased by parents Walter & Florence, brother Garth, oldest godson Harley David Hernstedt, mom & dad Yoshy, Janice Yoshy and great niece Janice Story.
A special thank you to Pine Grove Care Home for the care of Dale.
No service at his request. Ashes to be spread in the future, in White Rock.
Condolences may be sent to the family from
www.kamloopsfuneralhome.com
250-554-2577