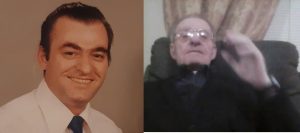 Today the world is poorer because it lost a special man, a good man, a true gentleman. With heavy hearts, we announce the passing of Dimitrios Moutsos, loving husband, father, brother and friend. He took his last breath at RIH on January 4th 2021 at 3:15am with his devoted wife Natalia of 27 years by his side.
Dimitrios was a kind, gentle, honest, and loving man. He has touched the lives of many with his generous and giving heart. He was born on August 8, 1935, in the Greek village of Mesohorja. Dimitrios moved to Sydney, Nova Scotia in 1951 at the age of 16 with dreams of getting an education. He worked with his uncles in Sydney for several years, and continued to help his family in Greece. Through hard work and dedication, he brought his brothers over to Canada. After years in Nova Scotia and a brief stop in Prince George, Dimitrios ended up in Cache Creek where he worked for Husky Oil Company and was awarded for his long and faithful service. He settled in Kamloops with his brothers in 1977 after purchasing the Commodore Restaurant. Dimitrios worked alongside his brothers for 17 years before stepping away from the business in 1994. He and his wife enjoyed travelling back to Europe to visit family.
Dimitrios was survived by his loving, devoted, and faithful wife Natalia; two sons Yourgos and Niko; and brothers Ted and John along with many relatives in Greece. He loved his family with his whole heart and cherished the times they spent together. He will be forever missed. Rest in peace Dimitrios.
His family would like to send an extended thank you to the hard working staff of 6 North and the Emergency Department at Royal Inland Hospital.
"You will remain in my heart until we meet again with love, Sagapo" – Natalia
"You are always in my heart" – your brother Ted.
"Sagapo Baba" – your sons Yourgos and Niko
Prayers were held at the Ukrainian Orthodox Church of All Saints on the Northshore on Sunday, January 10, 2021 at 7pm, and the Funeral on Monday, January 11, 2021.
Condolences may be sent to the family from