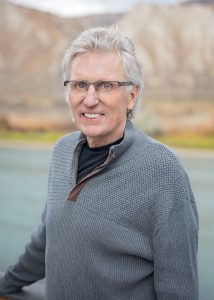 April 23,1954 – October 26, 2023
It is with profound sadness that the family of John Dunford announces his sudden passing on October 26, 2023 in Kamloops, BC.
He is survived by his loving wife of 23 years, Charlene; their children Becky (Nathanael), Todd (Keely) and Ali and his grandchildren whom he adored; Brielle, Sophie, Tristan, Violet and Elias. He is also survived by his brothers Brian (Barb), Peter (Connie), Paul (Karen) and sister Anice (Mark). He was predeceased by his parents George and Doreen, and his beautiful daughter Jodi.
John loved being a forester and took great pride in the profession. He was well respected and well liked.  John worked for Tolko Industries for over 23 years. John was Professional Forester of the Year in 2010 (by the BC Association of Forest Professionals). He served a four-year term on the BC Forest Practices Board, three as vice-chair, where he was recognized as bringing a fair and balanced perspective to the Board. Nationally, for over a decade John served as Chair and Vice-Chair of the Forestry Committee for the Forest Products Association of Canada (FPAC). He led the Woodland Caribou and Forest Certification sub-committees always bringing thoughtful solutions to these policy conversations. He was also a member of the National Council for Air and Stream Improvement (NCASI) Forestry Committee during this time. For many years John championed the importance of sustainable forestry. He served as Director and Chair of Programme for the Endorsement of Forest Certification (PEFC) Canada, and represented PEFC Canada internationally on several boards and working groups.
John's family, friends and coworkers will remember him as a genuinely kind, gentle and loving soul. He had a quick wit and great sense of humour. John touched the lives of many and left knowing how incredibly loved he was. He will be forever missed. 
A Celebration of Life will be held in May 2024 in Kamloops BC. Date and location to be determined.