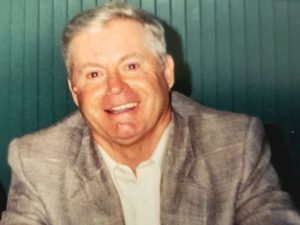 It is with great sadness that we announce the passing of Murray Elson Ford of Kamloops BC on June 4, 2021 at the age of 86.
Murray Elson Ford was born November 14, 1934 and raised in Collingwood Nova Scotia. He was one of 7 kids.  He was predeceased by his brother Ron, and 4 sisters – Joyce, Eleanor, Brenda, Joan. He is survived by his wife of 63 years Joan and his younger brother Merlin. He moved to Quebec and started a career in mining joining Gaspe copper mines. There, he met Joan and they married in 1958. He moved the family to Logan Lake BC to join Lornex mining corporation in September of 1978. He continued to work there until his retirement in 1999. He loved golf in particular but he was also an avid curler and softball player. He was active in his community including volunteering thousands of hours to the Logan Lake golf course. He was awarded Citizen of the Year award in recognition of his efforts in the community. Murray and Joan eventually settled in Kamloops and enjoyed life at Riverbend. After a long struggle with declining health Dad passed away peacefully on June 4th at the age of 86.
Murray was the father to 3 boys Mike, Roger (Shelley) and Robert (Roberta). He was grandfather to 9 – Justin, Richard, Quinton, Nathan, Corissa, Corey, Asya, Breanna, Matty, and great grandfather to 7 –  Olivia, Logan, Toby, Jacob, Emma, Violet, Grace. We will always remember his humor, his contagious laugh, his willingness to help others, and his work ethic. You can just relax now Murray!!  Enjoy all the free golf!
A celebration of Murray's life will be held in Kamloops at a later date. Once a date is set and we are able to gather, it will be announced. (Subject to Covid restrictions) In lieu of flowers, donations can be made to the Kamloops SPCA.
Condolences may be sent to the family from