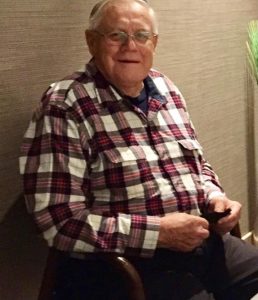 Tony Blackburn passed away on Tuesday, April 6, 2021 at 88 years of age. He
will be lovingly remembered by his wife Joyce Blackburn, children, Mark (Janet) Blackburn of Albany, New York, Sandra (Bob) Strate of Kamloops, BC, Lee Blackburn of Nelson, BC, and Brad (Brenda) Blackburn of Kamloops; grandchildren John (Anna Christina) Blackburn, Alanna Blackburn, (Sergio), Bailey Blackburn (Eric), Justin (Stephanie) Strate, Kyra Blackburn, Roz (Brad) Welder, Robert Berard,  Ashley (Trevor) Salle, and Markie Blackburn; great grandchildren, Cam, Clairesse, Jeremy, Corey, Tessa, Weston, John, Alexandra and Eva; and siblings, Madeline (Helen) Blackburn, Teresa Shields, Leon Thew, John (Rose) Blackburn, and Gaiten (Eugene) Lemoges. He was predeceased by his daughter, Debra Berard and grandson, Nicholas Strate.
Tony will be sadly missed by family and friends, his contagious smile and
sense of humour will always be remembered. He drove logging trucks,
self-employed, hauling for Balco and Toyko in Merritt and Kamloops, BC,
retiring at 65 years old. Son Brad Blackburn bought out the company,
Blackburn Trucking Ltd., to keep the legacy going for 52 years. Tony then
went to work with his son in-law Bob Strate, at Delta Irrigation. Tony and
Joyce spent many happy days travelling in their motorhome, and spending
quality time with their children and friends.
Condolences may be sent to the family from