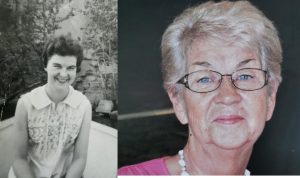 December 27, 1938 – January 24, 2021
Our hearts are filled with sorrow as we say goodbye to our loved one.
Arlene was born in Edmonton, AB and raised in Tiger Lily, Camp Creek and Barrhead AB. She is survived by her children Linda (Dave) Maartman; Allen Gascon; Donna Gascon (Mike Malm); Grandchildren Tana (Colton) Hunt; Jerrid (Kelsey) Robinson; Taylor (Kylie) Robinson; Rochelle Gascon; Janel Maartman (Brant Philcox); and Bryce Maartman. Great-Grand children Adria Hunt; Ezra and Nora Robinson and her sisters Janice (Bruce) Lee and Geri (Ray) Talma.
Arlene was predeceased by her grandson Jesse Gordon Gerald Gascon (1994), her husband of 55 years Gerald Gascon (2015), her son Gordon Gascon (2017), her sister Marie (Jim) Slator and her parents Bill and Lena Mitton.
Mom met dad in Edmonton through mutual friends, and it was love at first sight. Arlene and Gerry were married July 9th, 1960, and moved Lac La Biche, AB.
Ten years and 4 kids later, Arlene and Gerry left Lac La Biche, making the move to Sherwood Park in 1970, and Edmonton in 1971. A decision was made, and in February 1973, they packed up the family and headed to Kamloops, BC. Kamloops was still home to mom when she passed,
Mom was, for the most part, a stay-at-home mom. Family was very important to Mom, and she always made sure her husband and children were taken care of. Mom worked at K-mart in the late 70's to the mid 80's.
Mom and Dad provided the family with many fun-packed summers at the lake, horseback riding, snowmobiling, boating and many family road trips. Arlene and Gerry enjoyed extensive traveling throughout parts of BC, AB and the States; there was always another great Casino just around the corner!
Mom was still very active up until her passing. She loved meeting her friends at Bingo on Tuesday nights; weekly wine night with Vi Maartman, and lunch dates with her long-time friend of 80 years Darlene Spychka. She especially enjoyed bus trips to the Casinos in Washington and the Lower Mainland, traveling to Alberta to visit with family and friends, and did so right up until Covid closed everything down.
She also enjoyed spending time out at Shuswap Lake with the Maartman Family; playing board games with family, reading, and putting together puzzles. Arlene was incredibly patient, kindhearted and caring; she loved dancing and did so whenever and where ever possible. Mom was lovingly referred to as "The Dancing Grandma." Mom brought so much love, joy and happiness to our family which will live on forever. The beautiful memories she has left us with will always be cherished.
A graveside service will be held with family in late Spring, 2021. In lieu of flowers please make a donation to a charity of your choice.
Mom's favorite song was 'Pack up Your Troubles in Your Old Kit-Bag and Smile, Smile, Smile', take a listen to it, we know she'll be dancing in the sky.
Condolences may be sent to the family fromwww.kamloopsfuneralhome.com