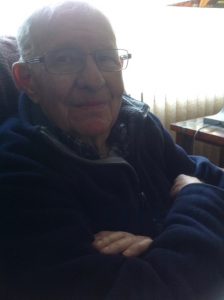 Peacefully on July 19, 2021 in his 84th year, Benoit Joseph Fouillard passed into Eternal Life at Royal Inland Hospital in Kamloops with his family at his bedside. Ben was the 8th child born to Benoit & Leontine Fouillard (Simard) in St. Lazare, MB.  He is survived by sisters Anita Fouillard and Jacqueline Lemoine and predeceased by siblings Denis, Rosalie, Marie, Corinne, Lazare, and Paul-Emile.  Left to mourn his passing are his loving wife, Clara, son Desmond, daughter Jacqueline (Dale), and grandchildren (Cody, Jenna, Xander, Quinten, Jaidyn).  He will forever be in our hearts.
Ben was first and foremost a family man with a deep faith in God.  He was big-hearted, generous and enjoyed being of help to others, especially with his mechanical abilities. Flying was his passion and he happily told stories of his years as a bush pilot.
Over the past several years, his health declined. Not being able to putter in his workshop was a huge hardship for him.
A funeral Mass will take place at St. John Vianney Parish, 2826 Bank Road on July 23, 2021 at 11:00 a.m.
In keeping with Ben's spirit, please do a random act of kindness to a stranger.
Condolences may be sent to the family from
INSERT LOGO