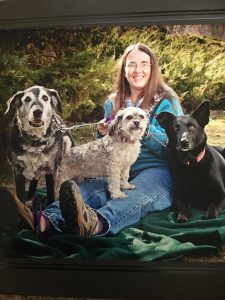 It is with great sadness to advise Mary Ann passed away suddenly in Kamloops BC on June 29, 2021.
Born in New Westminster BC to John (Bill) and Helen Nikkel;  she was the eldest of two daughters.  They made their homes throughout BC in Port Coquitlam, Haney, MacKenzie and Kamloops.  In MacKenzie she graduated high school, volunteered with the RCMP and worked as a Library Page at the local library.  But nothing drew her interest and love more than in her young adult years working in Barkerville one fine summer.
Mary Ann is survived by her sister Lynn.  She is predeceased by her Mother Helen Nikkel and Father John (Bill) Nikkel.
Mary Ann's ashes were laid to rest with her loving parents at the Maple Ridge Cemetery.
Mary Ann had many hobbies that included:  reading, embroidery and cross stitch, listening to the music of The Beatles and Dolly Parton, and an unwavering love for dogs.  She had many dogs over her lifetime whom she loved dearly as her trusted companions and family.
Mary Ann has now gone to live in the arms of her parents and our Lord Jesus.
Donations to the SPCA for her love of dogs and animals.
Condolences may be sent to the family from