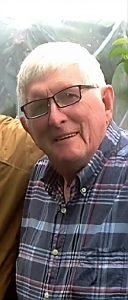 It is with great sadness and fond memories that we share the passing of Charles (Chuck) Douglass on Sept.8/21 at the Hillside facility in Kamloops , BC.
Chuck was born on January 9, 1948 in Saint John, NB to Charlie & Alice Douglass. Chuck grew up in the Stanley, Fredericton areas of NB & in Labrador City, Nfld. After high school Chuck moved west via Churchill Falls to work in Edmonton, AB. In the late 60's he started a 30 year career with CN Rail, in Fox Creek, AB. From there he moved to Vancouver and ultimately to Kamloops. It was here that he met Penny and they married and settled for 45 years. Chuck retired early from CN, at age 50, having moved up to transportation engineering. Chuck was very loyal to CN & enjoyed the many friends he made there, and maintained many of the friendships until his passing. After retiring he moved to working for Brentwood Enterprises  – Hytracker for 12 years as their marketing manager. Chuck loved the challenge of sales and really put his knowledge & expertise from 30 yrs. at CN to valuable use. He thoroughly enjoyed making 'cold calls' and making new friends! He again, retired, at age 63.
When Chuck moved out West his dream to find light mountain powder snow for downhill skiing-a sport he had learned in Labrador City & apparently put more time into it than school!? Tod Mountain in Kamloops partially fulfilled this dream. Chuck & Penny bought a cabin at Tod Mtn. in 1978 with good friends the Blair's, a cabin they kept until 2017. Alpine skiing was a passion of Chucks that fed through many heli skiing and CAT skiing trips as well as countless days at Tod -he had a seasons pass until 2016.
Chuck and Penny had two sons: Andrew and Simon. Much of Chuck's energy and interest centered around activities initially involving the boys. Skiing was a big family activity and many a night were spent at "the mountain". Many lasting friendships were made at Tod, often through, sharing a glass or two of Chucks wine.
Both boys were active in ski racing. Chuck was very involved with the Kamloops Alpine Ski club and later the Sun Peaks Racers, as a BC Alpine official & race organizer. Chuck loved the challenge and camaraderie of these events. He was also a long time volunteer with Scouts Canada-he maintained volunteer positions long after the kids had moved on. He loved involvement with many committees including StrataK18, the Kamloops Amateur Winemakers, Kamloops United Church and BC Alpine.
Chuck and Penny and the boys enjoyed many active, outdoors adventures including hiking, biking, backpacking, skiing & cycling along with adventures in the truck and camper. These were often with other families, the Genge's and Cowden's in particular.
Chuck generally loved and enjoyed people and also loved family. He took his position of "big brother", to his three sisters, seriously. He kept close contact with them until he was hospitalized in May. He cherished his Maritime roots and kept close contact with several relatives there and visited frequently.
Parkinson's  Disease waved it's cruel wand over Chuck 24 years ago but he was not going to be defined by it! He maintained a high level of activity as long as he could with activities including fishing, golfing, wine making, cycling, gardening, pool, crib and bridge. With supportive friends Bob & Joan Cowden, he & Penny cycled Hwy. 101 from Lund, BC to the Mexican border in 4 two week trips. Many Chuck stories & memories from those trip,s . P.D. did not prevent him from traveling several times to Australia to visit close friends.
Chuck truly enjoyed his many friendships and appreciated how friends and family supported him as his Parkinson's advanced. He was admitted to hospital in late May with an infection. His health and mobility steadily declined. Sadly, due to Covid he could not have visitors. He did enjoy the cards, pictures and videos many friends emailed. The iPad was a wonderful mode for him connecting. Penny and Andrew greatly appreciated all the support for Chuck.
He is survived by his loving wife of 44 yrs., Penny, son Andrew and his wonderful sisters; Sharon Drefs (Gary) of Parksville, BC, Susen Douglass of Edmonton, AB., Sandra Wynn (Dave) of Orleans, Ont. Along with many cousins and extended family in the Maritimes.
Chuck was pre-deceased by his father Charlie, his mother Alice and son Simon (2013).
Penny and Andrew would like to thank the many medical professionals that guided, treated and respectfully cared for Chuck over many years and most recently, including Dr. Jennifer Takahashi, Dr. , A. Thibeault, Dr. Olubajo, Dr. Barb Prystawa and Christine, the staff on 5 South, and most recently Dr. Carol Ward and the caring staff at Hillside Adult Psychiatric Center. They all helped to guide Chuck's journey to its peaceful end.
There will be a celebration of Chuck's life at a later date when Covid restrictions allow. In the meantime raise a glass of red in Chuck's memory.
In memory of Chuck, please make donations to the Parkinson's Society of  BC.
Condolences may be sent to the family from