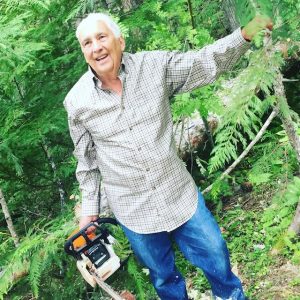 It is with profound sadness that we announce the passing of our mentor, our hero, our rock; Bill Gurney on September 9, 2021. Bill passed away at home surrounded by his loving family after an extremely courageous and lengthy battle with cancer.
Bill is survived by his wife of 60 years, Sharon, his children: Lisa, Janis (Jay), Steven (Michelle), daughter in law, Denise, his devoted workforce and project helpers consisting of his grandsons: Willis, Jacob, Nathan, Matthew, Adam, and nephews: Cody, Dustin, Ty, as well as numerous other family members and friends who were all important and special to him.
Bill was the oldest of five boys born to W.H. and Olive Gurney. He will be deeply missed by his 3 surviving devoted brothers; Don, Jim and Bruce. Bill was born and raised in Kamloops, B.C. and graduated from the University of British Columbia. He began a teaching career in Kamloops in 1966 and was a positive influence in the lives of many during his 30 year career at NorKam Senior Secondary School. He was also involved for many years with Kamloops Minor Hockey and Youth Soccer at coaching, executive committee and "super fan" levels. He derived much enjoyment as a loyal Kamloops Blazer's fan.
Bill was an avid historian and genealogist and loved to share his wealth of memories of earlier generations. He had many talents and interests, and accomplished much in his life, but he will be remembered most for his kind and cheerful heart, his compassionate nature, as well as his genuine interest in others.
Our hearts are broken, but we will "muddle on" without him enjoying our lifetime of wonderful memories. We will be forever grateful for his lasting legacy of our family cabin that he built from hand at his beloved North Barriere Lake.
"I saw behind me those who had gone, and before me, those who are to come. I looked back and saw my father, and his father, and all our fathers, and in front, to see my son, and his son, and the sons upon sons beyond.
And their eyes were my eyes.
As I felt, so they had felt, and were to feel, as then, as now, as tomorrow and forever. Then I was not afraid, for I was in a long line that had no beginning, and no end." -Richard Llewellyn

Following Bill's wishes there will be no formal service.
Donations in Bill's memory may be made to the Canadian Red Cross whose Health Equipment Loan Program provided practical support and comfort to Bill and his family.
Condolences may be sent to the family from