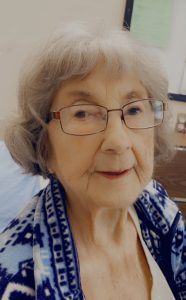 Cheryl Ann Stewart passed away peacefully in Kamloops at Overlander Extended Care Facility.
Cheryl was born May 6th, 1926 in Meadow Lake, Saskatchewan.
Cheryl is survived by her loving son Doug and brother Walter (Ivy).
As a young woman Cheryl wanted to join the army, but by the time she had turned 18, WWII had already ended. Cheryl had various jobs in her lifetime, and spent 5 years living in Hawaii and several more in South America. In the mid 90's, Cheryl chose to settle in Kamloops. Cheryl was just short of her 96th birthday when she passed.
Special Thanks to the staff at Overlander Extended Care Facility, we appreciate all you have done for Cheryl.
In Loving Memory – Donna
Condolences may be sent to the family from
www.kamloopsfuneralhome.com
250-554-2577