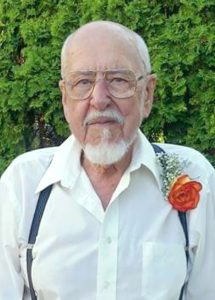 In deep sorrow we announce the passing of Jacob Befurt on May 7, 2023, in Kamloops, B.C., family by his side. It was the very day of his wedding anniversary with his beloved Vera Lillian Berry at Kamloops United Church in 1949.
Jacob was predeceased by Vera after 72 loving years together on December 20, 2021. Also gone before were dearly beloved newborn daughter Wendy Witten Vera Befurt 1960, grandson Jacob Russell Befurt 1999, and eldest son Richard Shane Befurt 2017 (Dianne); Mom Eva and Dad Jacob Befurt, and sisters, Chris Erlandson (Smokey), Eva Mayrhofer (Joseph).
Jacob leaves to mourn, his children: Thomas Befurt (Nicole), Wilna Capostinsky (Steve), Trevor Befurt (Kathie), Roger Befurt (Debbie); grandchildren: Amanda, Miranda, Troy, Hunter, Roger, Alexis, James, Julia, Liam; Great Grandchildren: Mahleah, Aria, Jacob-Trevor, Clarke, Calissa, Parker, Zara, Wyatt; and treasured nieces and nephews, dear extended family and friends.
Jacob was born July 2, 1926 in Konigsveld, Yugoslavia and emigrated to Kamloops, Canada by steamship with his family at age four. They owned and operated a farm and dairy in North Kamloops and also worked for the cannery, wood mills, and CNR. Jacob was proud that his mother Eva had helped begin the first Lutheran Church here in Kamloops.
Jacob was a proud Canadian Army Veteran. He was a CNR Locomotive Engineer who began in their shop, then firing coal burning locomotives, then Engineering as CNR converted to diesel locomotives, and tracks and signals controlled electronically. Jacob loved to get together to work, support, and socialize with his community. He was pleased to contribute many hours of volunteer service as Railway Union Representative, and to the Boy Scouts of Canada. Jacob was Second North Kamloops Boy Scouts Group Committee Chairman for many years and then Kamloops District Commissioner for many more.
Jacob enjoyed CNPensioners events, singing in the German Choir, taking part in Friends of the German Language, Kamloops Pipe Band, Schlaraffia, Gardening, Bee Keeping and selling at Kamloops Farmers Market, travelling Europe, Hawaii, Australia, New Zealand and Fiji, and especially time with family.
To the Doctors, Nurses and Healthcare Workers at Royal Inland Hospital we would like to thank you for your dedicated care of our Dad.
A Graveside service will take place at Hillside Cemetery on Tuesday May 23, 2023 at 1:30.
Condolences may be sent to the family from
www.kamloopsfuneralhome.com
250-554-2577