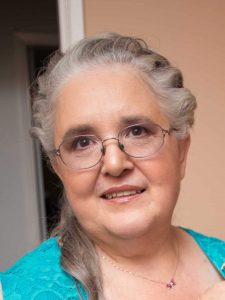 It is with great sadness that we announce the passing of Donna Rose Swiatkewich/Romaniuk. On Wednesday August 31 she unfortunately lost a very hard fought battle with cancer.
Donna was born in Manitouwadge, Ontario to Elsie and Frank. Who eventually moved to Kamloops where she grew up and graduated from Norkam Secondary. After marriage Donna moved to The Pas, Manitoba then to Winnipeg before eventually making her way back to Kamloops in 1994.
As a mother Donna was know for being a very crafty lady. She loved volunteering wherever her kids went.  Teaching Sunday school, lunch hour supervision, even sewing for the Sosna Ukrainian dancers. She loved all forms of creativity sewing, knitting, crochet, beading and embroidery. All of this leading her to open Donna's yarn and craft centre here in Kamloops, BC. Even when her battle was getting hard her crafting kept her going.
We would like to thank Royal inland hospital for their care and support to the teams at 4 north, 6 north, Cancer care and ICU who helped her fight as hard as she wanted.
She is lovingly remembered by both her Parents, Frank and Elsie Swiatkewich. Her 3 children Olesia, Dorothy (Doug) and Robert. Predeceased by her grandparents and her younger brothers Robert and Michael.
The Prayer Service will be held on Tuesday, September 6 at 7pm in the Ukrainian Orthodox Church of All Saints, 1044 8th St., Kamloops.  The Funeral Service is Wednesday, September 7 at 10 am in the Church. Following the Service, Donna will be laid to rest at Hillside Cemetery.
If desired in lieu of flowers donations in Donna's name to the Royal Inland Hospital Foundation.
Condolences may be sent to the family from
www.kamloopsfuneralhome.com
250-554-2577