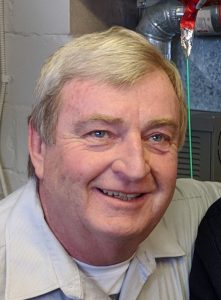 Earl John Speer, 65, passed away after a short battle with cancer on June 2, 2021 at 4:20am at the Royal Inland Hospital in Kamloops, BC. He was born in Edmonton, Alberta to Gerald Ensley and Jeannie Davie Bell (Stevenson) Speer on September 18, 1955.
Earl was raised in Lillooet, BC from a newborn and was a proud lifelong resident of Lillooet. A few years after graduation from Lillooet Secondary School, Earl met Deborah-Ann Yvonne Miller in 1977 and they were married in April 1979. Though they divorced just a few years later, they remained life-long friends and continued to raise their children together.
Earl was predeceased by both his parents. He is survived by his children, Lindsey (Shawn), Amber, and William (Michelle) and his bonus child Kathleen (Derek), as well as by his many grandchildren, Ethan, Natalie, Raegan, Logan, Hoss, Zacarias and Odin.
Earl enjoyed a long career with BC Rail. Over the years he made many friends working on the rock gang, before transitioning to a position as a patrolman running the rail line in his trusty speeder. After the acquisition of BC Rail by CN, Earl enjoyed the life of early retirement. He spent his days with his family, making his weekly rounds to see each loved one in turn. He built his homes from the bottom up and enjoyed working on classic cars, as well as making his infamous homemade wine. Later in life he began work for Interior Health where he put his skills to use caring for and maintaining the local hospital and its grounds.
Earl was an avid supporter of his family, and of the community. He was a member of the Lillooet Curling Club for many years, and frequented other local organizations and events, never hesitating to stop in with a hello and a smile for people he may know.
Earl was well-known in Lillooet, enjoying the company of many friends. Although Earl's life ended before we were ready, the time that he spent in our lives created memories of joy and love to all who knew him. He will be greatly missed.
Due to current COVID restrictions, a private ceremony will be held where Earl will be laid to rest by his family. A celebration of life will follow at a later date.
In lieu of flowers, donations can be made to the Elks Club of Lillooet.
Condolences may be sent to the family from