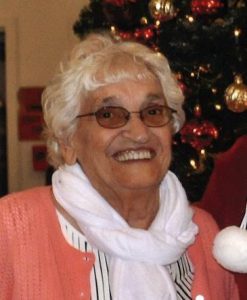 February 10, 1937- August 6, 2019
 It is with sadness that we announce the passing of our Mom, Elsie on Tuesday, August 6, 2019 at Royal Inland Hospital, Kamloops. She was born on February 10, 1937 in Saint John, New Brunswick. Elsie was predeceased by her parents William Arseneau & Helen Arseneau. Mom was one of 9 siblings, all from the East coast of Canada.
Leaving the east coast after she met & married Gerald DeNeef, they made their home in Kamloops. In later years, Mom lived in Spruce Grove & Maple Ridge before returning back to Kamloops to be near family.
Elsie is survived by her 3 daughters, Debbie (Jerry) Jones, Elizabeth (Dave) Williams, Karen (Ken) Wilk. Grandchildren: Christine (Joey) Legualt, Kevin (Becky) Kwitkowski, Lyndsay (Toby) King, Tyler (Darcy) Wilk. Great grandchildren, Sophie, Abbey, Kaitlyn, Daniel, Kipton and Hudson.
Elsie also leaves many extended family members and dear friends. One of them being Louise Pehota, a friendship over the past 50 years, still sharing stories and visits in the last days.
Mom was a passionate volunteer. She loved being part of the Food Bank, Senior Centre and Crime Stoppers. There she met many new friends whom she spent many hours laughing and socializing with.
At Moms request, there will be no formal gathering. She was loved and will be missed by her family & friends.
The family would like to thank all the health care people that have looked after mom over the last ten months and a special heartfelt thank you to Dr. Arduini, Dr. McKenney and the 4th floor nursing staff for their compassion and professionalism toward both mom and our family during this difficult time.
In lieu of flowers, donations may be made to the Kamloops Food Bank & Crime Stoppers in Mom's name.