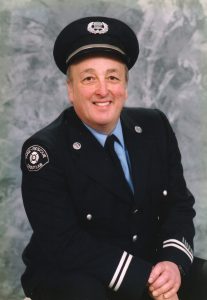 APRIL 16, 1949 – NOVEMBER 14, 2022
It is with deep sadness that we announce the passing of Graham Lougher at his home in Kamloops after a heroic fight with blood and bone cancer. He was 73. He was preceded in death by his parents and leaves behind his sisters Julie and Cynthia (Ed) and several cousins in the U.S. and overseas.
He was born in Eureka, California on April 16, 1949 to Tom and Doris Lougher who had emigrated to the U.S. from Wales after WWll to join Tom's two brothers.  In 1959, when he was ten, the family moved back to Wales.  They made one more move to Canada in 1967 and settled for good in Coquitlam, B.C.
After a few years at different jobs he joined the Coquitlam Fire Department in September 1973 and retired after 31 years in April 2004.  There he found his other family; and the friendships he made there, as well as those built through other pursuits and endeavours through the years, sustained him until the end.  Many of those friends, especially in Kamloops helped him and kept an eye on him during his last struggles.
He loved hunting, fishing and building things, keeping busy.  He had numerous second jobs or projects over his career as a firefighter, the biggest of which was his cabin at Adams Lake.   He bought it in 1995 and spent every spare minute he could fixing it up.  Quite rundown when he bought it, he spent many hours of hard work over the next 27 years rebuilding it.  "He turned a sow's ear into a silk purse" his neighbour Rick said, "pouring tons of concrete that he mixed and troweled himself, " and over the years building relationships with his "Adam's Lake family".  Graham was known to have every tool, nut, bolt, power tool and whatever gadget one might need. He was the "rent-all of the Bay". If you needed it he had it and if he didn't he would do his best to help with a solution. He was always very generous with his time, always ready to sit on the deck, have a beer and chat.  "He was part of the Adam's Lake experience."
Graham loved his cabin, it was where he was happiest, his favourite place on earth.  He would have lived there year-round if he could.  He would mark the days he spent there on a calendar, every day counted.  He would sit on his deck looking over the Bay, just thinking of new ideas and projects to keep his mind and body moving.
Our heartfelt thanks to all the staff at the Cancer Clinic and Royal Inland Hospital in Kamloops.
A Memorial Service will be held sometime in the New Year.  In lieu of flowers, please consider a donation in Graham's name to the B.C. Cancer Foundation or the Royal Inland Hospital Foundation in Kamloops or a charity of your choice.
Condolences may be sent to the family from
www.kamloopsfuneralhome.com
250-554-2577