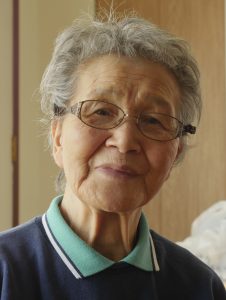 March 26, 1929 – April 17, 2021
It is with great heartfelt sadness that the family of Hatsue Yoshida announce her passing on April 17, 2021. She will be deeply missed by her sons and grandchildren, Don of Virginia, Granddaughter and Grandson-in-law Shena and Ryan of Brooklyn NY, Ken of Kamloops BC, and Gary (Suzanne), Granddaughter Lyric and Grandson Rohan of Whistler BC, and many nieces and nephews.
Surviving Mom is her brother Jenji (Joanne) of North Saanich BC. Niece Sandi of Sooke BC, nephew Jason of Victoria BC and Niece Laura of Portland OR. Sister In-law Anna (Barry) of Kamloops, Brother in-laws Tetsuo of Calgary AB and Hidewo (Setsuko) of Winnipeg MB and nephews Blair, Kent, and niece Erin. Nephews of Vancouver Rick (Diane), Abe (Pamela), nieces Evelyn and Linda (Mike) of Kamloops BC.
Haddie was predeceased by husband Yoshio, sons Stanley and Patrick, parents Kumajiro and Chiyoko Konishi, sister Setsuko Iwasaki (Yataro), brother Fiko (Shirley) Konishi, brother in-law Suyeki Yoshida (Lorna), sister in-laws Jean Yoshida, Midori Yoshida, and Haruka Yokome (Mitsuo).
Haddie was the eldest of four children to Kumajiro and Chiyoko Konishi. She was born on Mayne Island, British Columbia on March 26, 1929. Haddie and her family were relocated to the Skimikin/Turtle Valley area in April 1942 during World War II. She cherished the 11 families that lived alongside her own in Skimikin/Turtle Valley area.  She possessed an encyclopedic knowledge of their many histories. After the war, Haddie's family rebuilt and settled in Tappen BC to farm strawberries and tomatoes. In November 1954, she married the love of her life, Yoshio. She would go on to be blessed with five sons and prosper in the City of Kamloops.
Haddie was extremely resourceful, wise and endearing. She was blessed with a green thumb and maintained a luscious garden year after year. She had delicate hands that allowed her to create dresses that could be worn to celebrate any occasion.
Her dedication to her family and friends knew no bounds. She would often have friends stay overnight, and she would take great joy and pride in cooking them carefully crafted Japanese meals and making sure they went home with plenty of her fresh vegetables.
She had so much love to give. We are deeply saddened by our loss.
Funeral for Hatsue is scheduled for May 1, 2021  at 11:00 a.m. at Kamloops Funeral Home, 285 Fortune Drive, Kamloops BC.   For attendance please RVSP with Kamloops Funeral Home at home@kamloopsfuneralhome.com or (250) 554-2577.
In lieu of flowers for Haddie and family please donate to the Kamloops Jodo Shinshu Buddhist Temple or a charity of your choice.
Condolences may be sent to the family from