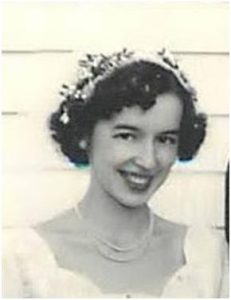 Ruth Edith Branchflower passed from mortality at the age of 89 on Friday, April 16, after  battling with Alzheimer's for several years.  Ruth was born Sept. 22, 1931 at Evansburg, Alberta. She was the only child of Walter and Liesel Smillie. Her father worked in the coal mines.
After completing elementary school education in various towns in Alberta she graduated from Jasper Place High School in Edmonton.  She then completed two years of teacher training at the University of Alberta and then obtained a teaching job in Edson, Alberta.
After teaching for four years, and going on a two-month tour of Germany and Scotland with her cousin Lore Graham, Ruth married Cliff Branchflower on October 23, 1955. Shortly thereafter the couple moved to Kitimat, B. C., where Ruth taught until June of 1956. The couple then moved to Kamloops, arriving on the July 1st weekend.
In Kamloops, Ruth taught at North Kamloops Elementary School for four years. In the ensuing years, the couple built a home in Brocklehurst. Ruth, a life-long lover of music, worked on obtaining a degree  as a piano teacher from the Toronto Royal Conservatory of Music.  Later in life, Ruth completed studies through the University College of the Cariboo and received a Bachelor of Education degree from UBC, though she never returned to teaching in the public school system.
As a piano teacher, she prepared many young people for taking the Conservatory exams, with most of her students passing their exams without difficulty. Her grandchildren fondly remember the cookie that always accompanied each piano lesson and every visit.  She also accompanied the singing of hymns for worship services at church, as well as the church choir.  For many years, she also accompanied the German language Liederkreis choir as they performed at seniors' facilities around the city.
Ruth's lifelong focus and passion was on family, music and on selfless service to others which  included an 18-month mission with Cliff in Thailand for the Church of Jesus Christ of Latter Day Saints. She also had a great love for flowers, and for animals, including her "tuxedo" cat Lucky.
Though small in stature (under 5 feet tall) Ruth was something of a human dynamo who worked tirelessly night and day to bring to conclusion whatever project she had taken in hand. Some of these projects included: chocolate making for fundraisers, making cinnamon buns for high school graduates, providing music for multiple choirs and helping to organize the Nativity displays at the church.
Ruth is survived by her husband of 65 years, her daughter Alison (Rick) Steffler and their two sons, Ty and Cole of Kamloops, by her son Wally (Shaunna) of Kamloops, their daughter Melissa of Lethbridge; daughter Kelsey (Brock) Olsen of Kamloops; son Ben (Brooke) of Boston, Mass.; daughter Riley of Kamloops; daughter Denae of Rexburg, Idaho; daughter Kara of Provo, Utah and daughter Hayley of Kamloops.  She is also survived by great-grandchildren Olivia Branchflower of Boston and Isaac Olsen of Kamloops.
While words cannot express how much she will be missed by her loved ones,
we take comfort in knowing that she is reunited with her heavenly family
and that we will see her again.
Ruth's family wishes to express their appreciation to the caring staff of Ridgeview Lodge for their compassionate and loving care of Ruth during her final six weeks in mortality at that facility.
In memory of Ruth Branchflower, in lieu of flowers, if you wish a donation to the Alzheimer's Society of BC could be made. (www.alzheimer.ca)
Arrangements entrusted to Kamloops Funeral Home 250-554-2577
Condolences may be sent to the family from www.kamloopsfuneralhome.com