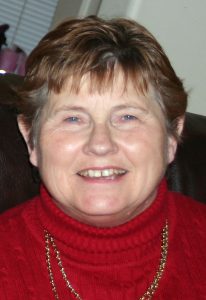 Mom, Grandma, Great-Grandma, Daughter, Sister, Auntie, Cousin, Friend!
On May 22, 2022, Mom passed on to Paradise on a beautiful, sunny spring day.  She will be lovingly missed by her children, Margaret (Darcy) McFarland, Lise-Anne Dore, Mark Dore & Michelle (Pete) Oyer; her friend and father of her children, Luc Dore; grandchildren, Sarah Dore, Katherine Lee, Quinn, Chase, Cori & Kaylee Oyer, and great grandchildren, Kezia and Ezra Lee Hofer.     When asked what she had wanted to be when she grew up, her response was "To be  a mom, just like my Mom!" And that she did.! She was kind, loving, considerate, generous, supportive (our biggest fan) whose infectious laugh, smile, and cheer could brighten up any space.  Those who knew Mom were truly blessed!
Mom was born on October 20, 1943 in Maymont Sask. to Florence and Dean Milman, bringing joy & laughter into their world – Their first born!  Over the next 19 years came siblings, Eileen (Tom) Petras, Diane (John) Wood, Allan (Lou), Larry (Bonnie), Louise (Terry) Burkatsky, and Elaine (Russell) Blanc.
Mom wholeheartedly loved her parents, siblings & numerous nieces and nephews, and loved sharing stories and memories of their many adventures over the years.  Mom will also be thoroughly missed by her loyal companion & pup, Ti-Belle.
Mom's very early years were spent travelling with her parents and younger sister while her father worked for BC Tel, eventually settling in Kamloops.  Mom attended and graduated from St. Ann's Academy where she finished her Secretarial school.  She was an avid reader and her "Love of Learning" didn't stop there. During her adult years, she attended college for 1st Year arts, and classes including Geography, Psychology, English and her favourite subject, French!  Mom especially enjoyed using her bi-lingual skills as a french tutor and French Teacher Education Assistant.
Completing her Community Support Worker program opened the door to many happy, fulfilling years providing care in Schools, Day-Care Centres and especially her Family Home Daycare which enabled her to provide care for her Grandchildren.
Through the years Mom enjoyed being involved and volunteering throughout the community including the Summer Games, Theatrical Productions at KFGT, Overlander and Extended Care Hospitals, and Kamloops Christian School in Literacy support.  Mom loved making a difference!
For decades, Mom's heart and purpose has been her involvement in the Kamloops Pro-Life Society.  On this board she was able to use her hands and passion. In her final days; her life and human value was affirmed.
Mom's many interests included dancing with the Old Time Fiddlers where she made many friends, and loved organizing social activities, and dinners with family and friends.  Outdoors is where mom felt most at home; gardening and bird watching, nature hikes, looking for, naming and sharing her knowledge of so many different species of plants  & flowers found on walks.  By far her most favourite past-time was camping at her most treasured and peaceful spot – Paul Lake Campground!  Many years have been spent and many memories have been made with family, camping and exploring. Mom, we will be thinking of you every time we explore and enjoy Paul Lake!
"Mom, you are missed; you are loved!
You will live on in our hearts and in our memories!
….Until we see you again!"
Family and Friends Gathering: Sunday August 28, 2022, 2pm, Paul Lake Campground, grassy day-use area.  Mom's ashes will be released in the wind from Gibraltar Rock after a short hike up the Bluff.
I feel my soul bursting through the layers of atmosphere that is so thick; bursting up and finally reborn.
Is that you God, my Creator, who has taken me from this earth, from pain, sadness, good times, as well as my family's love, of faithful friends?
Leave them with feelings of happiness and love, to keep them strong.
Such a great love surrounds my heart to bursting,
floating in a world of bliss.
Seeing loved family members long gone, friends I have missed; welcoming me.
I will miss my family I've left behind.
Maybe I could visit them in their dreams,
whisper encouragement in their ears and hearts, in their times of need.
Thank you for the love you give.
Thank you for the life of Love.
Thank you for your Love.
Margaret McFarland     
Condolences may be sent to the family from
www.kamloopsfuneralhome.com
250-554-2577