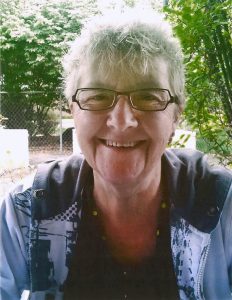 Rose was born July 27th 1950 in Stoke-On-Trent, England. She followed in her father's footsteps and worked as a paintress for Royal Doulton. She married her first love, Kevin, and had Tracey (Doug) Bogie and Aaron (Lizette) Guest. In 1974 the immigrated to Brantford, Ontario, Canada. After divorce, as a single parent, she showed strength beyond measure. In 1980 she became a Care Aide and began her 41-year career at John Noble Home. In 1992, she and her family moved to Kamloops, BC. She continued her career as a care aide at Pinegrove Lodge and then Ponderosa Lodge, from where she retired in 2021.
Rose spent her free time knitting, socializing with friends, and loving her pets. Rose was a loving Nana to Kristena (Damian) Weins, Nicolas (Kaitlin) Mackenzie, Cameron Bogie, Gracelyinn Brietzke of Kamloops, BC, Josiah (Montana) Guest of Castlegar, BC, Ashley "Jay" Collins of Vancouver, BC, Murron Bogie, William Bogie, and Eric Bogie of Cumberland, BC.
She was Gigi to Liam and Alice Weins of Kamloops BC, and Skylar and Maverick Guest of Castlegar, BC.
She was predeceased by David Vickers and Lizette Guest.
In lieu of flowers, donations can be made to the BCSPCA. A memorial will be planned soon.
Condolences may be sent to the family from
www.kamloopsfuneralhome.com
250-554-2577