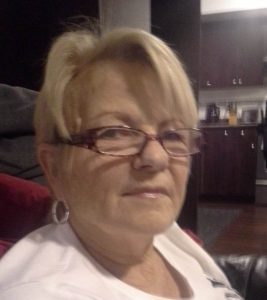 Jane was born in Bowmanville, Ontario on June 2, 1941 to parents Marian Frances (nee Allen) and Charles Robert Knox. She, along with her older brother Bob, grew up on the family farm in Orono, Ontario. She attended school in Orono, where she eventually met her future husband, Marshall Keast Jr. They were married on February 4, 1961 and welcomed daughters Cindy & Marsha to their family in 1965 & 1968 respectively.
Jane loved the outdoors and she and her husband could often be found riding horses, hunting, fishing or riding snowmobiles in the area.
While living in Orono, Jane was an active member of the community, holding positions with the Orono Hunt & Fish Club and the Orono Figure Skating Club.
Jane spent many years working in the Insurance industry (at one point, opening her own insurance office) but she did not let that stifle her creativity. She expressed her creative side through leather-work, (which she taught), needle crafts, pottery, ceramics, painting and photography.
Jane, Marshall & their 2 daughters moved to the Kamloops area of BC in the mid 1970's where in 1976 their son Cody was born. Jane greatly enjoyed that her family grew exponentially as her children married and had children of their own. Throughout the next several years Jane, a devout woman of God along with her husband, Marshall, moved to various parts of BC and Alberta enjoying the easy access to beautiful scenery and great hunting each area had to offer. After stops of a few years in both Quesnel and Tumbler Ridge BC they eventually landed back in the Kamloops area.
Jane was predeceased by her parents, Charles & Marian Knox, brother Robert (Bob) Knox and grandson Jared Keast. She is survived by her spouse of 62 years, Marshall Keast, daughters Cindy Gordon (Bill), Marsha Kurucz (Terry) and son Cody Keast (Paula) along with grandchildren Stuart Gordon (Nikki), Amber Howse (Dennis), Rebecca Mcleod, Michael Keast (Amanda), Joshua Kurucz, Aaryanna Kurucz and several great-grandchildren.
Condolences may be sent to the family from
www.kamloopsfuneralhome.com
250-554-2577