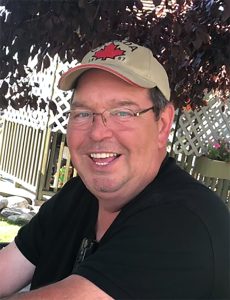 Brenton James Worden "Uncle Buck" – our beloved brother, uncle and friend passed away in his sleep on September 8, 2023. Brent was born in St John, New Brunswick on May 30, 1963 where he resided for the first six years of his life. Brent as a young boy loved spending time riding his bike, swimming and playing baseball. The family moved to Sorrento in 1969 and then settled in Chase BC. Brent worked for CP rail for over 34 years where he made lifelong friendships. In his later years he enjoyed time with his friends, gardening and video games. He was an avid reader and enjoyed documentaries and old time TV shows. He loved children and his little sidekick Winston. Brent was so witty and funny; he could always put a smile on your face with his "Brent humor" – no matter how inappropriate it was.
Brent's son Bryce passed away five years ago, his life and health were never quite the same after losing him. Even through his times of illness, his love for his family and friends always shone through. Brent is survived by brother Gary Melvin (wife Lynn, daughter Jennifer, son Christopher), brother Wayne Melvin (wife Diem, daughters Mackenzie, Rachel and Hannah), sister Heidi Markland (husband Graham, daughters Mandy (Cali), Ashley and Lindsey), sister Krista Pittendreigh (husband Fred, sons Curtis and Darren) and his CP Rail family and friends.
Rest in peace brother dear, Bryce and Winston are waiting at the pearly gates for you.
"Love you long time"
There will be a Celebration of Life held at The Coast Hotel in Kamloops, October 21 at 2:00pm.
Condolences may be sent to the family from
www.kamloopsfuneralhome.com