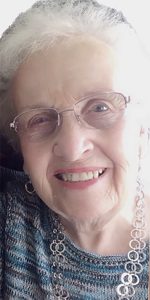 Marie Thompson, 96, went to be with the Lord on July 30, 2023. She passed peacefully surrounded by loved ones.
Marie lived a life of unwavering faith and spent many years involved with her church community.  Her light shone so brightly. She was warm, quick witted, spunky and enjoyed spending time with family and friends. She always found an opportunity to share a good laugh.
Born July 6, 1927 in Portland Oregon, Marie spent the majority of her life in Penticton and then Kaleden where she ran her own hair salon and worked full time while raising her children.
She spent her final years in Kamloops where she was well cared for at Berwick and then Pinegrove.
Marie was predeceased by her siblings and her husbands, Harold Foreman, Harvey Murfitt, and Ruben Thompson as well as her son Mark Foreman (Kathy) in January 2023.
She is survived by her children Donna Foreman (Peter), Brad Foreman (Deb) and step children Sharon Edwards (Bill), Gregg Thompson (Judy) and Linda Neilson (Jamie) Grandchildren: Theresa, Stacie, Colleen, Chrystal, Jen, Colin, Ryan, Michael, Sydney as well as many step grandchildren.
Great-Grandchildren: Tiago, Tavo, Mason, Owen, Lucy, Isla, Cassie, Dakota, Hayley, Payton, Lita, Briar and Great-Great-Grandson Zion.
Marie's family would like to extend a special thank you to the Pinegrove care team for all the love and care she received over the last 5 years..
Condolences may be sent to the family from
www.kamloopsfuneralhome.com