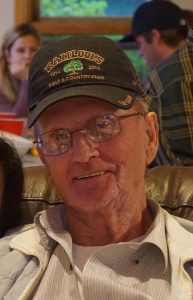 It is with great sadness that we announce the sudden passing of father and husband Don Powell, January 12, 2021.
Dad was born in Goderich, Ontario and he and mom (Wilma) moved to BC in 1957 to start their newly married life. Sadly Mom passed away in 1984 and Dad met Helen Samila in 1987.
Dad is survived by his two daughters Betty-Lou (Gary) Ohashi, Linda Fowles (Nick Decicco), Steve Fowles and of course Helen. He is also survived by his three grandsons Gregory Ohashi (Robbie), Jason Fowles and Justin (Chelsea) Fowles as well as Helen's children Nadine, Brian, Dave, Dean and their children. Don is survived too by his brothers Graham (Brenda), Gene (Rita) and his sister Muriel McGuire along with several nieces and nephews. Dad was predeceased by his sisters Marion Covey and Marg Norris and by his brother Gordon.
Dad began his career on the oil tankers in Ontario. He continued working in the oil industry in BC for many years where he worked at the oil refinery here in Kamloops until 1995 when he retired from the distribution terminal.
Next to his family the outdoors was Dad's passion. Often accompanied by Helen's grandchildren Jake, Cassidy and Payton, Dad and Helen could be found on any lake in BC sharing their love of the outdoors and fishing with the kids. Coupled with a few 'cold ones' if there was a fish to be found Dad was determined to find it not caring about the number of hours spent to do so. When Dad wasn't fishing he enjoyed 'monkey-wrenching' with either his brother Graham or son-in-law Gary. There wasn't much Dad couldn't fix or at least try his best to fix. We will miss our "Mr. Fix-it" also know as our Dad, dearly.
Due to the restrictions of COVID in place, there will be no service at this time – it is our hope we can hold a service for Dad later in the spring.
In lieu of flowers, the family respectfully requests donations are made to the Royal Inland Hospital in Dad's memory.
Condolences may be sent to the family from