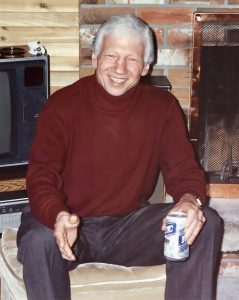 With great sorrow, we announce the sudden passing of Glenn Frederic Fieber on the evening of August 21 just four days before his upcoming wedding and one week before his 84th birthday. He was surrounded by his five children, and his fiancée and her daughter when he left us.
Glenn was predeceased by his wife of over 50 years, Daryl, who passed away in February of 2022. He is survived by his first wife Doreen and their children, Paul (Lori) and Shelley, and he and Daryl's children, Cameron, Kirstie, and Joel, along with grandchildren Elliot and Casey (Cameron and Jamie), Isaac (Kirstie), and Karolina and Pashabel (Joel and Kate). He is very much missed by his fiancée Libby Denbigh.
Glenn was born in Flin Flon Manitoba in 1939, son of Fred and Nellie Fieber. His father was a coal miner and later a union organiser. His mother was a teacher, and that became his life's passion.
Glenn started out as a young teacher in small BC communities (where teaching work was available) before moving to Kamloops in 1969 with his first wife and their two children. It was in Kamloops that he found a home and spent most of his adult life, and where he accomplished the things he was most proud of. He met and married Daryl in Kamloops and they had three children together.
Glenn was a great believer in the interconnectedness of all things, and that everything that happens in life happens for a reason. The decisions he made and the people that he seemingly connected with at random were instrumental in many things that shaped his life. A couple of these…
A conversation with Sandy McDonald at a Vernon squash tournament led to the creation of the Tournament Capital concept. Sandy worked with John, whose wife Kenna Cartwright was on the city council and could make the idea reality. If any of those connections did not exist, this would have become another random conversation that went nowhere.
The Father's Day Soccer Tournament grew out of a local Westsyde affair that eventually encompassed nearly every youth team in the greater Kamloops area. Glenn along with Eric Schweizer at one point commanded every playing surface in Westsyde and perhaps beyond so that over 80 teams could play through the Father's Day weekend.
Glenn was dedicated to the profession of teaching. He taught in BC public schools for over 30 years, and was involved not only in classroom instruction, but almost every extra-curricular activity that he could manage to cram in. He taught A/V classes, worked on the yearbook and in the theatre department, and still found time to coach school teams and the soccer teams of many of his children (Paul, Cameron and Joel). After 30 years of keeping that pace, he decided to un-retire and move to China and teach there, which he did for another 7 years, joined by Daryl when she retired herself a year or so later. After China was done, he continued to teach at TRU in Kamloops, and they eventually sent him off to South Korea for yet another opportunity to teach. In his early 80s he came off the bench once again to teach a special A/V course at his daughter Shelley's school in Langley. Teaching was a life-long pursuit that he never stopped doing.
Even while taking every teaching opportunity he could, he did eventually manage to enjoy his retirement. He was a lifelong participant in the Terry Fox Run, and brought it with him wherever he travelled, organising runs in Shanghai during his time there. He loved spending time with his grandchildren, travelling with friends made during his years of public service in the school system, and skiing. He kept his season pass to Sun Peaks to the very end, and always made it pay.
In preparation for the end of his life, he wrote a letter to his children, and updated it over the years. His final words to us are:
I won't say "The End" because there isn't one.
But, all my love,
Dad
There will be a memorial service at 1 o'clock in the afternoon at the Mountain View Room of TRU on September 24, 2023.
Condolences may be sent to the family from
www.kamloopsfuneralhome.com