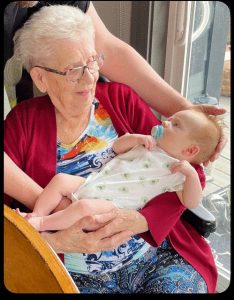 Born February 17,1936 Cut Knife, Saskatchewan Passed away January 16, 2023 Kamloops, BC
Our mom, grandma, friend, mentor,  Joyce passed away Monday, January 16, 2023. She is survived by her husband Charles, children Chris (Trish), Mark (Heather), Tim (Birg), Annette (Mark), Ben (Allissa), and Lance (Shannon) . She has 13 grandchildren and 7 great grandchildren.
Mom, we will always think of you and remember you as a sassy pillar to all of the lives you touched.
Thank you to all the dedicated staff at the Gemstone in Kamloops. You are awesome and appreciated! In lieu of flowers please donate to your local Alzheimer's, dementia foundation.
Condolences may be sent to the family from
www.kamloopsfuneralhome.com
250-554-2577