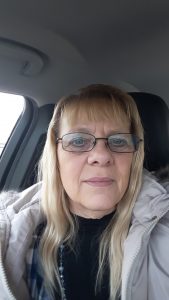 In Loving Memory of Diana Harris
Diana was born in Goodsoil, Sk on September 7, 1959 and passed away after battling cancer, in Kamloops, BC on January 13, 2023.
She is survived by her loving husband Ken Osmachenko, three grandchildren, Damon, Morgan and Kenzie, five brothers, three sisters, Aunt Marie Track and numerous nieces and nephews. Diana was predeceased by her parents, Rudolf Klemmer (August 2007) and Marie Klemmer (February 11, 2010), brother Daniel Klemmer (October 31, 1998), and sister in-law Jody Klemmer (October 31, 1998).
Condolences may be sent to the family from
www.kamloopsfuneralhome.com
250-554-2577