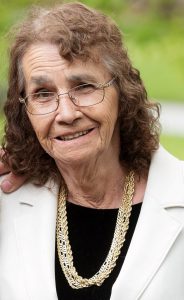 Gone, but never forgotten. Wife, Mother, Grandmother, Great Grandmother, Elder Geraldine 'Geri' Evylen Rose Collins passed away peacefully at home January 16, 2023.
Born January 28, 1944 in Princeton, Geri was predeceased by eldest son Chip (Wilana) and parents Leonard and Jesse Stewart as well as brother Daniel and three sisters.  Mom loved her husband and family beyond anything else. She is survived by her loving husband of 62 years James 'Jim'; son Jamie (Linda) and daughter Danova (Dave).
She was extremely proud of her grandchildren Tricia (Cody), Robin, James, Casey (Kyle) and Jessica. Happiness was about family and quality time – and time spent with her Great Grandchildren Lane, Kade, Scarlett and Clay was sure to bring a smile to her face.
Fishing, hunting, going to rodeos and family time in general played a role in her married life as her children were raised with all these activities. A family-centered life style was important and she imparted that with everything she did.
Between the dog, cat, chickens, horses, and cattle life was busy and fulfilling in her retirement. While Geri worked in many fields and organizations both as an employee and a board member starting with the Central Interior First Nations Community Futures and the many years she spent building it up and helping the many clients that walked through the doors was very important to her.
A celebration of life will be held at Moccasin Square Gardens (old Residential School Gym) 315 Yellowhead Highway on Sunday, January 22 at 12:30 pm. Light refreshments will be served. The family would like some privacy at this time.
In lieu of flowers, donations to the Kamloops Little Britches Rodeo would honour her memory. Spend time with your loved ones and think of her with fond memories.
Condolences may be sent to the family from
www.kamloopsfuneralhome.com
250-554-2577