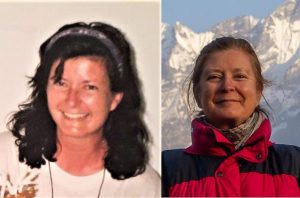 April 9, 1956 – March 15, 2021
It is with great sadness that the family and friends of Lori Davies announce her passing on March 15, 2021 at Vancouver General Hospital. Lori is survived by her mother Fay Davies, her sisters Nancy Stewart and Carolyn Gavriel, her nephew Alexei Gavriel, her nieces Allison and Lindsay Stewart, and her loving partner David Gow Cooper. She was predeceased by her father Dr. Gordon Davies in 2002.
Lori was born Lorene Catherine Davies on April 9, 1956 in Vancouver, B.C. Her parents moved around for several years while Gordon completed his medical internship and training as a general surgeon and then established a medical practice, moving from Vancouver to Saskatoon and then to Kamloops.
Lori was a bright light everywhere she went, beloved by all who knew her. Throughout her school years at JP and KSS Lori was an intelligent and talented student, a gifted actress in drama productions, and was popular with her teachers and fellow students as a person who was unfailingly polite, kind and generous to everyone, fun-loving and energetic, spirited and courageous, and ready to try almost anything. During her late teens and early twenties she worked for approx. six summers as a lifeguard and swimming instructor for the City of Kamloops.
In 1979 Lori graduated from the University of Alberta with a BSc in Psychology, and in 1981 graduated from Western Washington University with a Master's Degree in Speech-Language Pathology and Audiology. In 1981 she moved to Calgary, working at Alberta Children's Hospital and the Dr. Gordon Townsend School's Communication Class until 1986. She also worked in Kelowna and eventually ended up in Vancouver in about 1987 at the Vancouver Neurological Centre, now called the Centre for Ability.
Lori's former CFA colleagues report that in addition to being a truly gifted speech-language pathologist she was also a devoted clinical supervisor, guiding and supporting many UBC MSc students in their clinical placements.
In about 1995 Lori battled two very serious cancers, taking a year off work while she underwent two surgeries, radiation treatments, recovery and rehabilitation. Lori was always ready to use humor to help herself and others cope with the worst circumstances, and with many loving friends visiting her post-surgery at VGH, a nurse remarked to Lori that she had never before heard so much laughter in the cancer ward.
As soon as she felt able, Lori joined a cancer survivors' dragon boat team and over the next few years worked her way up to being a member of Team Port of Vancouver, competing in the Dragon Boat Festival as one of only eight teams in the finals of the elite Cascadia Division, out of hundreds of competing teams. Always happy to include children, she allowed her young nieces to participate in warm-up exercises with the team.
In 2003 Lori returned to Kamloops, working at the Children's Therapy and Family Resource Centre as both a therapist and the supervisor of a multi-disciplinary team. She also coordinated the Autism Assessment Team and mentored many students as well as other therapists. According to her former colleagues, Lori was absolutely dedicated to the children and families she served; in her work she was intelligent, intuitive, extremely resourceful, and she cared for her clients from the bottom of her soul. Among her many areas of expertise, Lori was interested in and researched pre-literacy and literacy skills in children with Downs Syndrome and had many resources that she shared.
Families remember her infectious laughter and her ability to be gentle and nurturing while fiercely advocating for children and families. As a supervisor she was a leader but always 'led from behind' and was positive, supportive and encouraging toward her coworkers, with whom she formed deep and lasting friendships.
Travel, adventure and love of nature were key components of Lori's life.
Upon graduating from high school in 1974, Lori and Candace Cates hopped into a Honda Civic and drove across Canada to Quebec. In Ottawa they stayed with MP Len Marchand, his wife Donna and family, who were exceedingly hospitable and introduced them to Prime Minister Pierre Trudeau and other Members of Parliament, all of whom were very kind.
In 1976-77 Lori and Candace backpacked around Europe and the USSR, often staying with foreign students they had met at UBC. In the days before internet, communication was sparse and their families worried a lot, but during their month in the USSR under the rule of Breshnev before the fall of communism, their families didn't worry quite so much about their safety, being pretty certain that their every move was closely monitored by the KGB. They had a great time in the USSR, and were treated like rock stars on the Trans-Siberian Railway.
These were the beginnings of many adventures Lori would have throughout her life with many wonderful friends. Because of Lori's experiences with cancers and subsequent battles with autoimmune diseases, she was always aware of the possibility that she may not live a long life, so she made a very conscious and determined effort not to wait to live her best life, but to live her best life in the present.
In that goal she was aided by lots of amazing friends who introduced her to camping, fishing, travelling on a motorcycle, kayaking, snowshoeing, cross country skiing, hiking and biking. They biked through France, hiked through the Andes in Peru and the Annapurnas in Nepal, and kayaked and camped their way through Belize and islands off the Pacific Coast. To her immense astonishment, Lori discovered that she thrived at high altitudes, experiencing a burst of energy just as her more athletic friends were succumbing to altitude sickness. Lori loved the outdoors and felt that time in nature replenished her soul. In later years she fell in love with bird watching and photography.
Lori remained close with friends she had met in Vancouver, some of whom became known as the SOPIs – Sisters of Perpetual Indulgence, a term coined by someone's clever husband. Lori frequently remarked that SOPI members and other friends did most of the work organizing the many amazing trips, and she just went along; she knew how lucky she was to have them in her life, and she often expressed gratitude for their friendship. With her lifelong Kamloops friend Ruth Lidster she had many memorable trips, adventures, and countless moments of absolute silliness. They loved to go on bird watching walks and trips, and while Lori was in a coma during her final days at VGH, Ruth played bird songs at her bedside.
Lori had an unfortunate tendency to injure herself on trips, but she was never a quitter and she did not want to let her injuries ruin other people's enjoyment of the adventures (she called it "the hostess gene"). She had incredible stamina and determination in the face of things that would cause other people to give up – broken ribs, broken bones in her foot, broken wrists, and more. Instead of letting illness and injuries beat her down, Lori's response was to come back stronger, fight harder, live better and achieve even more.
Lori loved children and seemed to connect with them so naturally, so intuitively, that they invariably adored her. It was a true gift that enhanced her effectiveness as a speech-language therapist and made her a much-loved aunt to her nephew, nieces, and all her friends' children.
Lori's family is grateful to her partner Dave, who brought so much love into her life and cared for her during her illness when the pandemic prevented others from getting close to her and giving her the care they so badly wanted to provide.
Many thanks to the medical staff at Royal Inland Hospital and the ICU at Vancouver General Hospital, for their diligence and care.
According to Lori's wishes, she has been cremated and her ashes will be scattered over a body of water. We have not yet determined where that will be, but friends and family are encouraged to provide suggestions, and everyone will be kept informed when a decision is made. Because of pandemic rules against large gatherings, a celebration of Lori's life will be held at some time in the future when it is safe for all her many friends to come together, hold each other, and cry and laugh together.
In lieu of flowers, please consider making a donation to the Children's Therapy and Family Resource Centre, and/or to Ducks Unlimited.
Condolences may be sent to the family from www.kamloopsfuneralhome.com
Arrangements entrusted to Kamloops Funeral Home 250-554-2577