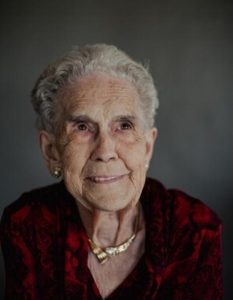 It is with great sadness that we announce the passing of Stella May Batdorf, also known as Mom B. Stella passed away on April 10, 2021 at the age of 99 years in Kamloops, B.C. She is remembered with love by her children: Bruce Charles Batdorf and Dale Lee Batdorf. Also; Tony Lundquist, Sharon (Jim) Wagner, Gerald (Marthe) Lundquist, Allan (Bev) Lundquist, and Debbie Lundquist; 12 grandchildren, 27 great grandchildren, and 12 great great grandchildren.
Stella is predeceased by her parents Johanna and Gifford Farrell, her husband Bud Batdorf, Berger Lundquist, Bernice Batdorf and Coreen Batdorf.
Stella was a loving and generous person who was known for her humour and hospitality. Her door was always open to those who needed a place to stay. She will be sadly missed by her family and friends.
Stella was born on a farm just outside of Carstairs, Alberta on April 22, 1921, to parents Johanna and Gilford Farrell. She had five brothers Ernest, Albert, Norman, Bert, Arden and one sister; Hazel. They had lots of hard years establishing their home but always took time to visit and play games. After Stella left home she went to Calgary and worked for a few years and then moved to Black Diamond, Alberta.
There she met Charles Walton Batdorf, better known as Bud, they married on Sept 14, 1940 and they had two children; Bruce Charles Batdorf and Dale Lee Batdorf. Bud was killed in a trucking accident in 1964.
Stella took in many boarders and this helped to keep her busy, she often said that this is what kept her going after the death of Bud. This is also where she got the name Mom B.
Stella met Berger and the family grew. They spent 46 happy years together in Prince George and Abbotsford, BC. They loved to travelling in their campers to all the weddings and anniversary gatherings. Then Berger passed away in 2017 but Stella continue to travel to see many family and friends. She made her last move to Kamloops and then eventually moved in with her son Bruce. She always kept in touch with everyone on Facebook, going so far as to learn how to use a computer/ iPad in her 80's. This helped her to continually feel loved by all.