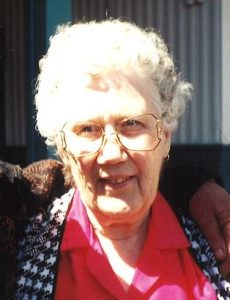 April 20, 1921  –  March 31, 2021
It is with great sadness that we announce the passing of our Mother, Viola McDonell.
Mom was born in Royal Inland Hospital in Kamloops, almost 100 years ago.
She was predeceased by her husband Gordon, in 1998.
As a long time Kamloops resident, she was raised on the family ranch on Robbins Range, and as a young woman moved to Kamloops where she met  and married Dad.
There, they together raised  their family.
She will be lovingly remembered by her 5 children , Ron (Peggy),  Lynne, Bryan, Holly and Tammie (Rick), 8 grandchildren and 12 great grandchildren.
Mom spent many hours Volunteering her time with the Royal Canadian Legion, The Women's Institute , and at school functions . As a couple, Mom and Dad also enjoyed Square Dancing.
Condolences may be sent to the family from